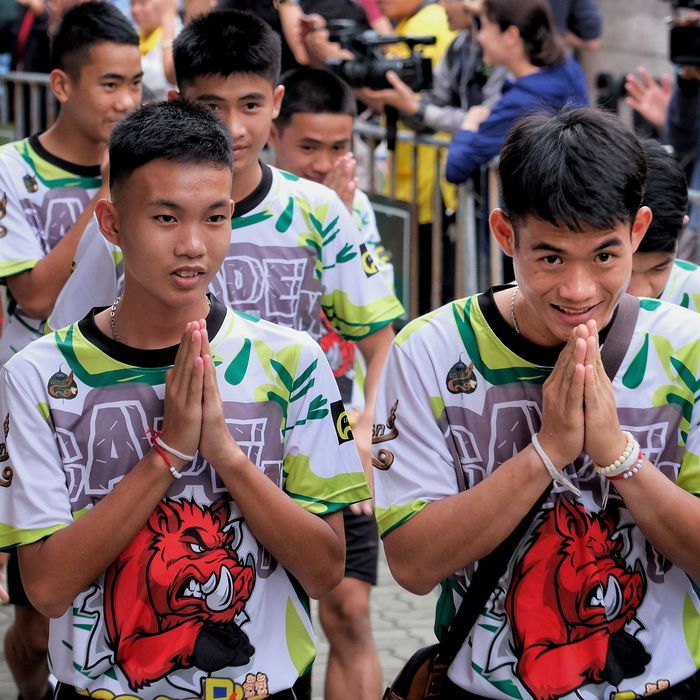 Photo: Linh Pham/Getty Images
The 12 Thai soccer players and their coach who were rescued from a cave after being trapped for over two weeks spoke to the media for the first time this morning. During a press conference, which took place after they were released from a hospital, the 12 boys, ages 11 to 16, and their coach reflected on and clarified parts of their experience.
Ekapol Chantawong, the coach, took the lead on explaining why they went into the cave. He said everyone agreed to go inside the cave, and when they realized they were trapped they tried to dig their way out. He also clarified that they all can swim. It had previously been reported that none of them could swim, posing an extra challenge to the rescue team.
The 25-year-old coach said, "We knew we were trapped on our way back. We had to get wet and swim. We all can swim. It was not true that we could not swim; after football we do swimming activities."
Regardless of their swimming abilities, the currents from the unexpected flooding that kept them trapped in the cave were perilous for advanced divers. One Navy SEAL, Saman Kunan, died in the effort to get the team out. Chantawong said, "We felt guilty, because of his death." Chantawong confirmed that the team plans to be ordained as monks as a tribute to Kunan. They have also written messages, shown to the media, to Kunan's family thanking them for his service.
As for what's next — aside from being ordained — five boys indicated that they want to be Navy SEALs, and two others said they wanted to play football professionally. All the boys said they want to say sorry to their parents.