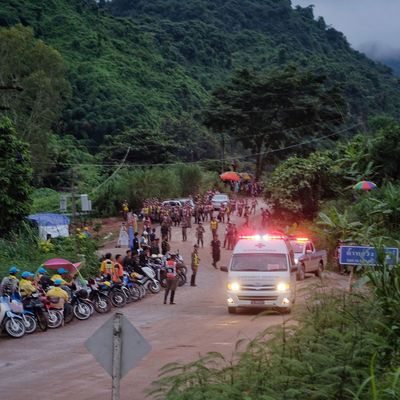 An ambulance carrying one of the boys from the cave to a nearby hospital.
Photo: Linh Pham/Getty Images
Finally, after being trapped in northern Thailand's Tham Luang Nang Non cave system for over two nightmarish weeks, all 12 members of the Wild Boars youth soccer team and their coach have been successfully rescued, and are being treated in local hospitals, BuzzFeed reports.
Thai officials and international experts had been struggling with how to extract the tired, malnourished boys and their coach from the small chamber they have been trapped in since June 23, when unexpected monsoon rains flooded them in. The two-and-a-half-mile dive between the team and the nearest exit was perilous even for the strongest and most advanced divers, and one Thai Navy SEAL diver, Saman Kunan, died last week during the rescue effort. But as the team began to lose oxygen, and more rain threatened to flood the cave system further, teams of divers began guiding the boys out one by one, successfully rescuing four on Sunday, four more on Monday, and the remaining five on Tuesday.
It took a team of 19 divers nine hours to remove the remaining five team members. The boys' coach, Ekapol Chantawong, 25, was the last to be rescued.
"This is the hardest mission we've ever done. The lower the water is getting, the stronger the current. It's stronger now. Every step of the extraction is risky," Narongsuk Keasub, a diver for the Electricity Generating Authority of Thailand told CNN.
The 12 boys and their coach are recovering in nearby hospitals. Hospital officials said they are healthy, but that their friends and family aren't allowed to get too close to them until doctors are confident they are free of infection, and their immune systems have regained strength.
Thai Prime Minister Prayut Chan-ocha visited one of the hospitals treating the boys on Tuesday, and told the press that the team members had been given anti-anxiety medication before undertaking the long, treacherous journey to freedom.
According to the Thai Navy SEALs Facebook page, three SEAL divers and a medic, whom they refer to as "frogs," are still in the caves.
"12 wild pigs and coaches out of the cave. Safe everyone. This time, waiting to pick up 4 Frogs," they wrote in a post.
Updated, 07/10/2018, 10:55 a.m.:
The AP reports that the remaining SEALs have been freed.