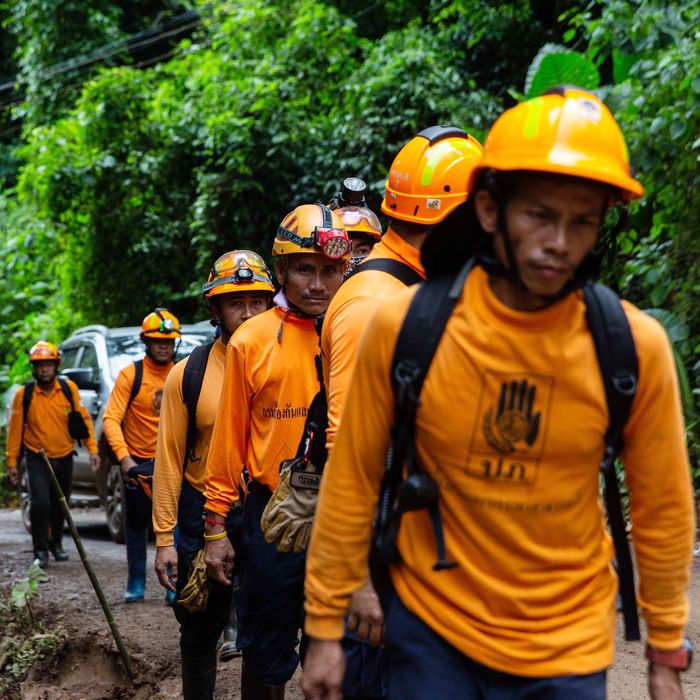 Rescuers.
Photo: Lauren DeCicca/Getty Images
Rescue diver and former Thai Navy SEAL Saman Kunan, 38, died on Friday as he was returning from delivering oxygen to the 12 boys and their soccer coach who have been trapped in a cave in northern Thailand for nearly two weeks, CNN reports.
"His job was to deliver oxygen. He did not have enough on his way back," Passakorn Boonyalak, Chiang Rai's deputy governor, told the Telegraph.
Kunan's death highlights just how dangerous the circuitous two-and-a-half-mile dive is from the main exit to the chamber where the boys are trapped. Authorities had discussed teaching the boys, who are between 11 and 16 years old, and their coach, who is 25, to dive out of the cave on their own. But the members of the team are hungry and tired, and some of them don't know how to swim, and according to CNN, it takes even highly experienced, healthy divers like Kunan up to five hours to make their way through the narrow, flooded tunnels.
Keeping the boys in place, however, appears to be just as dangerous. Thai military officials say the oxygen level in the chamber where the boys are trapped has dropped to 15 percent, posing a serious health risk.
"We can no longer wait for all conditions (to be ready) because of the oppressive situation," Thai Navy SEAL chief Rear Admiral Aphakorn Yoo-kongkaew told CNN on Friday. "We originally thought the young boys could stay safe inside the cave for quite a long time but circumstances have changed. We have limited amount of time."
Meanwhile, the government continues to try to drain floodwater out of the cave in the hopes that the boys will be able to walk out. But their efforts are slow, and more rain is expected this weekend. According to Bloomberg, Elon Musk has sent a team of engineers to Thailand to see if they can use SpaceX or Boring Co. technology to help free the trapped team.