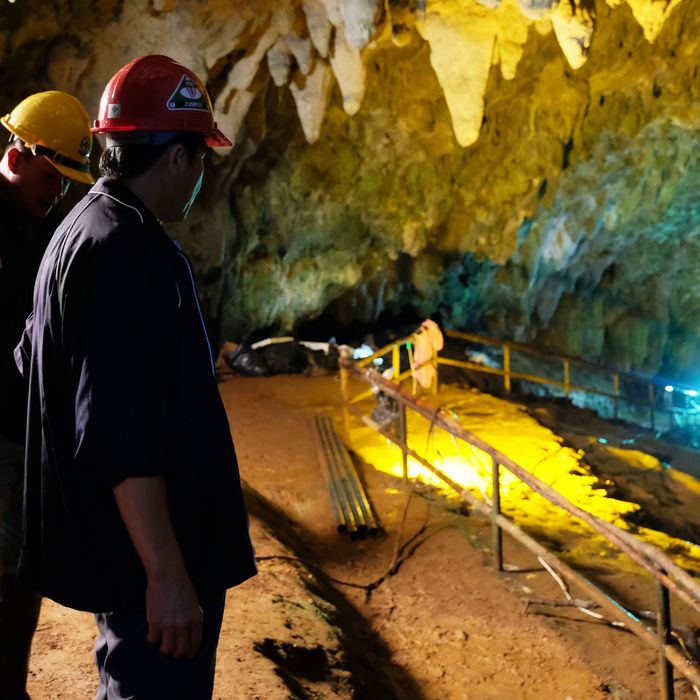 A group of rescuers assess the situation inside Tham Luang Nang Non cave.
Photo: Linh Pham/Getty Images
Four Thai soccer team members have safely reemerged from the monsoon-flooded cave where they've been trapped for more than two weeks, AP News reports.
For the past 15 days, Thai navy SEALs have been delivering food, medical care, and oxygen to the 12-member Wild Boar soccer team, who entered northern Thailand's Tham Luang Nang Non cave system on June 23, and then never came back out. While the SEALs have been able to access the boys, who are between the ages of 11 and 16, and their 25-year-old coach since their disappearance, authorities have been struggling to determine the safest way to get them out.
On Sunday, around 10 a.m. local time, a team of 13 international cave diving experts and five SEALs began the dangerous mission of accompanying the boys as they embarked on the circuitous two-and-a-half-mile dive through the flooded cave's narrow tunnels. According Chiang Rai province acting Gov. Narongsak Osatanakorn, who is leading this operation, the four boys who were the first to make it out around 5:40 p.m. were the healthiest of the players, but were still taken immediately to the hospital. (Their condition is not yet clear.)
The mission is going "better than expected," Osatanakorn said at a news conference following the successful first phase.
While authorities are racing against time, as rain reportedly started to come down on Sunday evening, the rescue team will now need 10 to 20 hours before starting the second phase of the operation to retrieve the remaining eight players and coach.
Updated 07/09/2018, 10:30 a.m.:
Four additional members of the soccer team were brought out of the cave on Monday, Reuters reports, meaning eight people have been rescued so far, and five remain.
The first four boys who were rescued and brought to area hospitals on Sunday were described as being "happy" and "in good health," but sources told the AP their families weren't able to be in close physical contact with them yet for fear of infection, and could only see them through a glass partition.
Governor Osatanakorn told reporters on Sunday that the boys "said they were hungry," and "wanted to eat khao pad grapao," a popular Thai dish of stir-fried ground meat with chili and basil, served over rice.
It is unclear how Sunday night's rain has affected the rescue operation. If everything goes according to plan, officials told the Wall Street Journal, the remaining team members should all be removed by Tuesday.