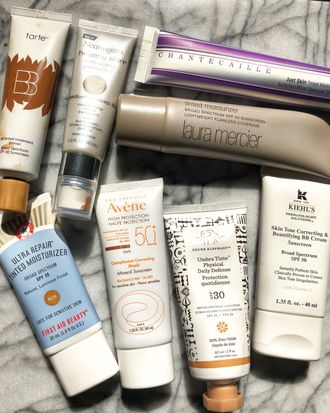 There are staggeringly few options for tinted sunscreen for darker skin tones. I cannot tell you how many times I've opened a shade labeled "deep" or "rich," only for the consistency to make my face look severely ashy. Since the "40 shades" trend that Fenty made popular hasn't trickled down to tinted sunscreens yet, most brands only offer three options, with the darkest still showing up white on my skin.
I went looking for tinted formulas with some degree of SPF protection — whether they be sunscreens, BB creams, or tinted moisturizers — that would actually work for me. The seven products below might not come in a wide range of shades, but they're sheer enough to look pretty on darker skin, and they'll all protect you from the sun. Whether you're looking to wear your tinted sunscreen as a base, underneath powder, or mixed in with foundation, these are the best ones for darker skin on the (admittedly small) market right now.
The consistency of this formula is light, but the deep color was richer in tone than I expected. I used it like a base, but the satin-matte finish blended well with my oily combination skin. It's nice if you're looking to build coverage, instead of getting full coverage all at once.
This only comes in one "universal" shade, but it's so sheer that it doesn't really matter. The formula blends incredibly well and doesn't leave your face feeling sticky like many sunscreens do. I tested it during a period when my skin was breaking out and found that it didn't aggravate my pimples. The texture was smoothing, and the tint gave me a little glow.
This is the tinted sunscreen/moisturizer combination that turned me into a believer. It comes in 15 shades, which is practically a miracle. A little goes a long way, so you'll have the tube forever. And best of all, it makes your skin look incredible — it blurred my pores and left an almost-airbrushed effect.
I kept returning to this one because of how matte it made my skin, even on the hottest of days. Though it comes in four pigmented colors, it's not very moisturizing, but it kept oily areas like my nose and forehead from developing a sheen.
The Best Complexion Corrector
This only comes in five shades, so naturally I had to use the darkest shade, "Rich." If you can find your color, it's a nice substitute for foundation. And even if you can't, I think it's worth using as a base because the formula is a weightless cream that reduces redness, pimples, and fine lines.
This only comes in three shades, which is a bummer. But I've been using it as a primer because it has something the others don't: Vitamin C. Since I struggle with hyperpigmentation and acne scars, the high levels of vitamin C in this formula make it worth considering.
This French tinted sunscreen comes in seven shades, all of which are quite muted and sheer. I like how it doesn't leave that patchy texture you get from some tinted sunscreens, where your makeup looks uneven by the end of the day. With this on, my face felt supple and plump, as if I had spent the afternoon at a spa.
If you buy something through our links, New York may earn an affiliate commission.