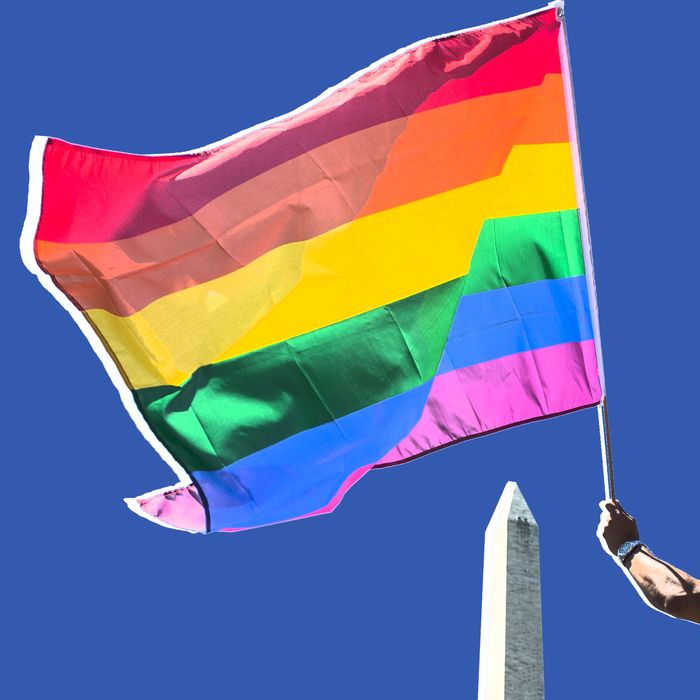 Photo: ANDREW CABALLERO-REYNOLDS/AFP/Getty Images
Today, a group of Democratic senators are expected to introduce a bill which would require the U.S. census to implement direct questions about sexual orientation and gender identity by 2030 — an increased push upon recent efforts to collect data regarding sexual orientation and gender identity. In March, it was announced that the census would ask people in domestic partnerships to specify whether their relationships were "same sex" or "opposite sex." Previous surveys offered an "unmarried partner" category, purportedly to include LGBTQ couples, but demographers say that data was muddled by the broadness of that term.
The new questions proposed by the bill aim to include data on those LGBTQ-identified people who aren't in relationships, as well as trans people. (That said, the terms "opposite sex" and "same sex" as utilized in the relationship questions suggest the updated census will still reflect a binary approach to gender.) California senator Kamala Harris and other Democrats say these questions are essential to helping LGBTQ people get access to social services like Medicaid, Section 8 housing vouchers, and food aid, particularly because income levels of queer individuals are more likely to fall below the poverty line than those of straight people.
Still, others worry that detailed information regarding sex and gender identity could be used against those groups an updated census claims to protect — because workplace discrimination based on sexual orientation and gender identity is still legal in many states, there remains some hesitance to make this information publicly available. The senators proposing the bill, though, say the updated census would adhere to the same privacy standards currently used to protect the privacy of participating individuals — no information can be released that can identify individuals until 72 years after it has been collected.
The proposed bill defines sexual orientation as "homosexuality, heterosexuality, or bisexuality," but it hasn't yet been made clear what response options will be available regarding sexual orientation and gender identity on the census itself. The bill's authors are asking the Census Bureau to research and develop these new questions within a year after the bill's passage.