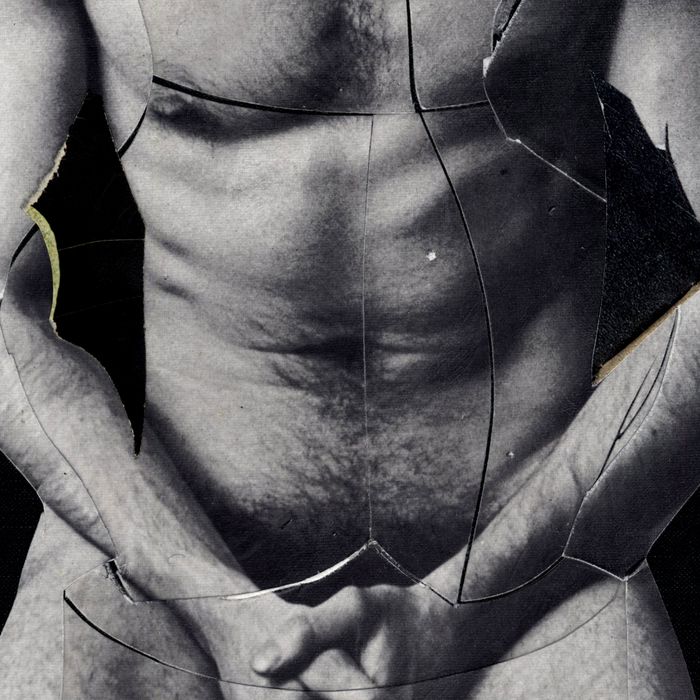 Photo-Illustration: James Gallagher
New York's Sex Diaries series asks anonymous city dwellers to record a week in their sex lives — with comic, tragic, often sexy, and always revealing results. This week, a designer who's enjoying the summer dating scene in New York: gay, 42, single.
DAY ONE
10 a.m. Wake up late and try and unpack some of the weekend's events. I went to four parties in two days, so I'm physically tired from being out late and dancing for hours on end, plus emotionally tired from being in such highly charged environments. I did have a lot of fun, though!
12 p.m. Head to the gym but get sidetracked along the way as I run into Thomas, a good friend who lives in the neighborhood. We sit in the park and catch up. It's too beautiful of a day to be inside anyway. We swap stories from the weekend and he tells me about giving some dude a hand job on the pier on Fire Island as the sun set. It's the most romantic thing I've heard in a long while …
1:30 p.m. After parting ways with Thomas, another detour to get lunch and a further detour to eat it on one of the Brooklyn Bridge Park piers. I lie out for a while listening to the H.E.R album. It's a beautiful day — it feels good to have the sunshine on my body.
4 p.m. I finally make it to the gym and spot a couple of people I saw out and about over the weekend. The gym is full of gay guys ignoring each other … or at least it sometimes feels like that. The steam room, on the other hand, is a different story. More often than not there's some kind of action to be had in there.
6:30 p.m. I get home and order food and chat briefly on Grindr with some artist dude in Tribeca who hit me up a few days ago. He wants to meet up at some point but it's all very vague. Rarely do these things materialize into an actual real-life encounter. I'd say one in ten, and that's being generous.
I first got on Grindr after the end of a long-term monogamous relationship four years ago. It was a huge distraction from dealing with the hurt and pain of my breakup. I was devastated but did enjoy having some decent sex again. (Our sex life had always been highly problematic and was what eventually led to us breaking up.) For the first time in my life I was really exploring the world of casual sex. Going on PrEP — pre-exposure prophylaxis — has also been very liberating and took away the fear of HIV that I had since I was a boy.
11:45 p.m. I jerk off to some porn and go to bed. I'm exhausted from the weekend and really happy to get in to bed.
DAY TWO  
9:45 a.m. I make breakfast and get to work on my computer and figure out what I need to get done for the day. I'm starting a small online business and designing the product for it at the moment. I've been in the fashion-design industry for years and after working for other people I'm trying to give it a go working for myself. It's scary but I need to try it.
2:45 p.m. I'm happy with the progress I've made today so I decide to blow off the rest of the afternoon and go get lunch and sit in the sunshine for a while. I put "Feel Up" by Grace Jones on and it makes me so happy. I love the summer in New York so much.
5 p.m. Walk into the gym and immediately run into Peter in the locker room. He's standing there in a towel, obviously cruising. I picked Peter up a few weeks ago in the gym and took him home. He lives and works around Wall Street, so God knows why he comes out to Brooklyn to cruise the gym. Actually, I know exactly why … because he is married. I noticed the ring when we were fucking. I don't know whether to a man or woman, but I suspect a woman. He gives me a grin and a suggestive wink. I'm not in the mood for the steam room, though — I'm already a sweaty mess from the bike ride here. I just smile and say hi and move on.
9 p.m. Home and I FaceTime with my best friend and catch up on the last couple of days. Then a quick FaceTime with my business partner to show him latest developments. Finish up a few work things and go to bed.
DAY THREE
8:30 a.m. Up and out to meet a friend for breakfast. I bike past the place where RS works and he sees me and waves and I stop for a quick chat. RS is a cute (and age-appropriate) guy I met for coffee last week and we have been tentatively making plans to hang out again. He's creative and fun and seems to be self-aware. More will be revealed I'm sure. We make vague plans to hang out tomorrow evening. I make a note to myself to actually make a definite plan with him as tentative plans are all anyone seems to make these days. People can seem so noncommittal sometimes.
12:30 p.m. Breakfast turned into a three-hour affair and I dash home to grab my computer and meet Thomas for a work session. He's working on some writing and I have some design stuff to do and it's good motivation to actually get it done, if I have someone else working alongside me. Otherwise I can procrastinate like there is no tomorrow.
5 p.m. Therapy. My therapist is awesome and has been amazingly helpful over a pretty rough time in my life. He is full of practical advice as well being incredibly knowledgeable about the theory of psychotherapy. He is really trying to get me to express my anger at the moment. I keep it really locked down inside and have a very hard time showing it. This really runs deep with me and it's going to take a lot of time but we are slowly chipping away. I feel like this period in my life (my midlife crisis as my therapist refers to it) has forced me to confront a lot of stuff: fear of  loneliness, rejection, and abandonment, aging, as well as anger and resentments.
6:45 p.m. Yoga class, with this teacher I just started going to. I have a love/hate relationship with yoga. Right now it feels great to be practicing again. There have been times in my life when I couldn't bear to be in a class anymore and times where I was going all the time and loved it. I'm happy to be enjoying it now.
9 p.m. Work for the rest of the evening. Realize I haven't showered today, not even after yoga. I couldn't deal with the locker-room parade so I just grabbed my stuff and left.
1:30 a.m. Shower (finally) and bed.
DAY FOUR
8 a.m. Wake up horny,  which is unusual for me. Jerk off thinking about HJ. HJ is a hottie from my neighborhood who I've hooked up with a few times recently. He's handsome, ripped, and wears slightly baggy Calvin Klein boxers and earrings, and turns his baseball cap backward when he blows me. Totally sexy, and just the right amount of trashy. He's in an open relationship (aren't they all?). I would definitely date him if he wasn't.
10 a.m. Take my laptop to a coffee shop and get to work.
2 p.m. Text RS about tonight. We are going to meet up later after he's finished work.
4:30 p.m. I walk into the steam room and there's a young guy in there. He flashes me a look and subtly adjusts his junk through his towel. That's the signal that he's down to play. I respond and we start jerking off together, then he leans over and starts blowing me. Half the excitement is knowing we could get caught any minute if someone walks in and I come in his mouth pretty quickly. He nods in appreciation, gives me a wink and leaves. I did not see that one coming — I could have sworn he was straight at first glance. My gaydar can be really off sometimes.
5:30 p.m. I'm home and reviewing the work I did earlier today. Taking a break helped. I can immediately see now what's working and what isn't. I can get a bit carried away fiddling around with graphics and layouts, but it feels good to be doing something creative.
8:30 p.m. Starving, so I go pick up some sushi and eat it while watching The Handmaid's Tale.
10 p.m. Quick change of clothes and go meet RS. We go get ice cream and sit in the park. He is catching fireflies, which is pretty cute. He's easy to get along with. I could see being friends with him. He asks if he can see my apartment so we walk back and hang out for a bit. We talk about going to the beach next week, then he gives me a sweet kiss and leaves. I wasn't really down for anything more — I already came twice today.
DAY FIVE
9:30 a.m. Wake up horny again — what is going on? Log into Grindr and soon enough get hit up by a handsome guy in his early 30s out for a run. He's super keen and I have an hour to spare before I have to be out so I invite him over. I like his direct approach and no messing about. It's a turn on. Occasionally it really is that easy — like ordering food. Turns out he's married and has kids, hence the eagerness and this happening while he's out for a run. I can't help but admire the multitasking. The sex is fun and brief. Daddy is definitely on a schedule!
11:30 a.m. Quick shower and head out to meet a very pregnant friend for lunch. She looks amazingly relaxed and happy, and about to pop. We talk about how a man can become a father at any age but women only have a finite amount of time to become mothers. I already consider myself to be a little old to be having kids. She thinks that's nonsense and tells me about someone she knows in their late 50s who just had twins. I wouldn't want to be an old father though — being in my 70s with teenage kids? No thanks. I like being around my friends' kids and I love being an uncle, but I don't think fatherhood is for me.
6:30 p.m. Get dressed and head out — bike down to Dumbo and meet my friend and her kids. We catch the ferry to Williamsburg and hang out in Domino park for most of the evening. I'm running around the playground with the kids who are equal parts cute and fun and naughty and exhausting.
9:45 p.m. Ferry home. It's such a beautiful evening and New York City looks incredible all lit up at night. I'm so happy I live here. New York never gets old for me.
1 a.m. Still working — I should really go to bed!
DAY SIX
11 a.m. I wake up and meditate for the first time in ages. I'm out of practice and my mind wanders throughout. I feel tired and lethargic today. Could be the heat.
12 p.m. Make breakfast and FaceTime with my brother and my nephew. I'm very close to my brother and I miss him. He lives with his wife in London and I see them about twice a year. They have an 18-month-old son whom I love more than I ever knew I was capable of loving anyone. Seeing their faces makes my day.
3 p.m. I'm at the gym, half-assing my workout. It's quiet here today and suits my mood.
6 p.m. I get home and take a nap on the sofa.
8 p.m. Make dinner.
12:15 a.m. Hit the sack completely wiped. Today was a struggle for some reason.
DAY SEVEN
8:30 a.m. My alarm goes off and I keep hitting snooze
9:15 a.m. I get up and make some tea and meditate. Still can't focus for shit.
10 a.m. I make breakfast and send last night's work to my business partner for review. Get a text from Jordan, who's someone I met at the gym a few weeks ago. We hung out and eventually figured out that we had actually hooked up on the beach in Provincetown a couple of summers ago. Who knew? He made me dinner a few weeks ago and we hooked up again. He has a boyfriend who lives out of town though, so I'm not going to go down that road. I could see him becoming a friend. He's asking how I am, wanting to know what I'm up to, and I tell him I'm headed to the beach with a friend shortly. He asks me to send him pics of my tan lines. Not going to happen.
11:45 a.m. Thomas pops over to pick me up and we head out on bikes.
12:30 p.m. Just make the ferry from Sunset Park to the Rockaways — they only let a few people on — the ferry is packed! We are sweating our tits off.
1:30 p.m. We are at the beach and the water is glorious. The gay beach at Jacob Riis can be pretty intense but it's a great slice of New York life. I love it.
6:30 p.m. One last swim and then dash to the ferry.
9:30 p.m. Thomas and I go out for Mexican food — we're both starving (and considerably more tan than we were this morning).
11:30 p.m. Home and need to get to bed soon. I have a PrEP appointment early tomorrow morning plus a prostate exam. I figure It's only polite to make sure I'm cleaned out properly before I have a finger stuck up my ass so I will have to get up really early to accommodate that. Having to go through the hassle of douching without the promise of getting fucked after … what a great way to start the day.
Get Sex Diaries every week.
Want to submit a sex diary? Email sexdiaries@nymag.com and tell us a little about yourself.