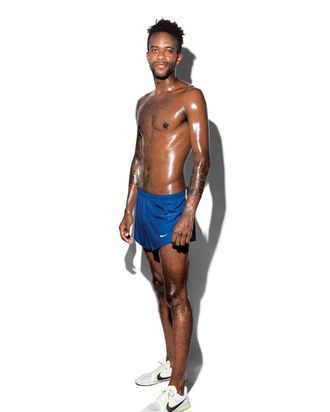 "I was just in Denmark, and I ran every day."
Photo: Bobby Doherty/New York Magazine
Cliff Cook, IT Strategist
What mile are you on?
I just finished running the perimeter of Prospect Park, which is about four miles. I've been running since fourth grade and ran Division I in college. I used to be a lot faster. Now I'm just trying to hold on to being decent. But I always make time for it; I was just in Denmark, and I ran every day.
Traveling with friends?
Alone. My girlfriend and I were on a break. So I went to Denmark alone that weekend. Communication wasn't great between us then; it caused a lot of issues. But even when we broke up, I had a feeling we weren't done yet. A couple weeks later, we sat down and had a big talk. Then we got back together.
How was traveling alone?
Well, one night I went down to this harbor and started talking to some people who ended up being part of this community who live in these really well-decorated shipping containers. They were having a big party in a warehouse, and they invited me. We had drinks and biked over there. I didn't have drinks. I've been sober for the past couple of months. It's mostly so that when I'm at a party, I can really focus on the music. And I'm all about experiencing things to the max.
Age: 32.
Reading: The Woman Who Smashed Codes.
Watching: "I'm rewatching this show called Power. It's on Starz."
Clothing style: "I'd describe it as extra-fresh. My favorite shirt says 'Disco Forever' on the front in gold glitter."
Next trip: "Japan, then South Korea. Actually, before that, probably Colombia and Panama." 
*This article appears in the July 9, 2018, issue of New York Magazine. Subscribe Now!