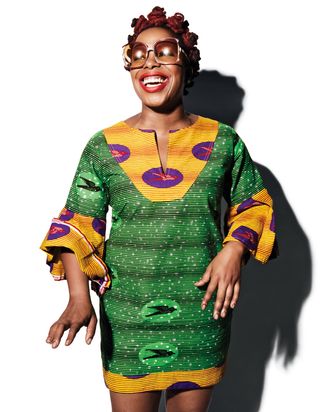 "I can't live without red lipstick."
Photo: Bobby Doherty/New York Magazine
Michela Wariebi, Makeup Artist and Teacher
Cool dress.
Well, I like dressing like a rainbow. I found it at an African bazaar in Brooklyn. It reminded me of something my mom would wear, except way shorter.
Are you close with your mom?
We are now. We didn't used to be. My family is very traditional: We're Liberian, and when I was growing up in Maryland, my mom had a lot of ideas about how I should live, dress, talk. I'm not someone who likes to go with the wave. I wanted wild hair, crazy nails, and revealing clothing.
What brought you to New York?
I'd been working in the makeup department at Nordstrom in Bethesda and decided I wanted to move to New York. I packed my life into a ten-foot truck, hooked my Toyota Camry to the back, and drove here with my boyfriend. We broke up within a year.
What happened?
I was a mess; I'd have broken up with me too. There was this stretch where I lost my wallet three times in one month. One time I spent the last of my money getting to the police station to retrieve it. When I got there, they said the office that had it was closed and that I'd have to come get it the next day. I started weeping right there. None of the officers seemed to care. But then this female officer came up to me and handed me a ginger ale. And with the soda, she slipped a $20 bill into my hand.
*This article appears in the July 23, 2018, issue of New York Magazine. Subscribe Now!