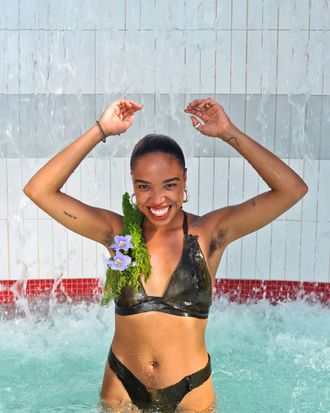 Seaweed has never looked so good.
Photo: Nicole Combeau
Trying to make a bikini feel new and exciting is a bit like reinventing the wheel. With so little fabric, how much is there to really reimagine? But last week at Miami Swim Week, one style that felt fresh (pardon the pun) was the edible swimsuit made by Chromat designer Becca McCharen-Tran in collaboration with chef Angela Dimayuga. The finished product was showcased at the Standard Miami's Lazy Sunday BBQ, hosted by Chromat and (F)empower.
McCharen-Tran and Dimayuga dreamed up the project with help from McCharen-Tran's partner Christine after attending a Red Bull concert featuring Björk. The avant-garde icon made them feel "super inspired," McCharen-Tran said. "It started as a joke and then it became real." It was a perfect match: Dimayuga, the Standard's creative director of food and culture, is no stranger to food-as-art, and McCharen-Tran loves an unexpected twist.
The bikini looks like a normal high-cut, army-green bathing suit from Chromat, but it's made with kombu seaweed. When dry, it's brittle and cracks easily. When wet, it feels like "fruit leather covered in K-Y Jelly." McCharen-Tran called it one of the stranger materials she had ever worked with. She made patterns for the bikini, then put it together directly on the model, who wore it at the BBQ. Once she was dressed, they garnished the suit with dill and other herbs from the Standard kitchen. They originally planned to eat (part) of it, but when the model got in a chlorinated pool for a photo shoot, it was rendered inedible.
"We always think about food as visual in terms of being on a plate, but the materials are so interesting, too," Dimayuga said. "Kombu is an interesting material to work with because it's so widely available, it's sustainable, and it's delicious."
While this bikini could not be eaten in the end, that doesn't rule out the possibility of kombu as a usable fabric in the future. If it does become a new trend, it'll come with an extra benefit. "A lot of seaweed enthusiasts have looked at kombu as something that has natural lube," Dimayuga said. "That was one element that I thought was really cool that brought it to another level of utilitarian possibility."
Really, who wouldn't want a bikini that's sustainable, possibly edible, and provides natural lubricant? Keep an eye out for kombu-kinis in the future.