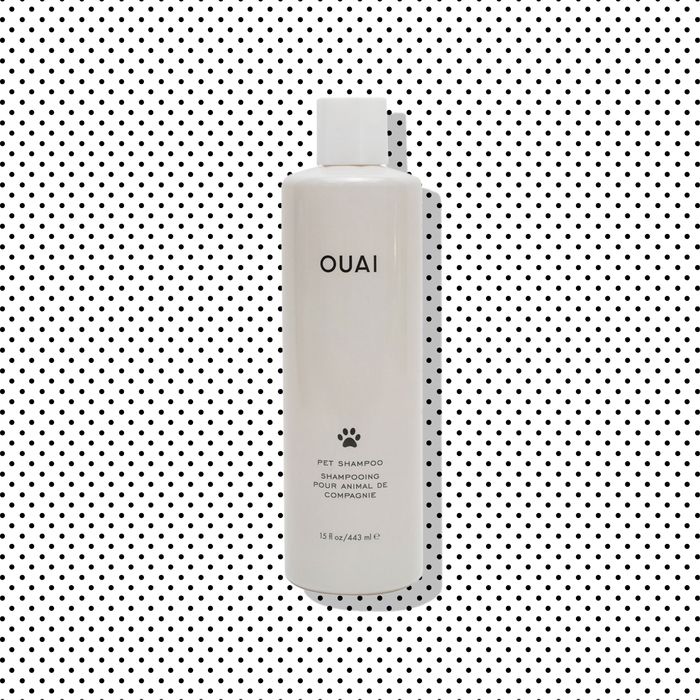 Welcome to the Top Shelf for dogs. When the Cut first heard that Jen Atkin — the Kardashians' favorite hairstylist and the founder of Ouai Haircare — was creating a luxury pet shampoo, we went straight to New York Magazine's own #pet Slack channel to find dog owners who were willing to test it on their fur babies. Over the weekend, Reggie, Caldwell, Fritz, Peter, and Maxine all got baths. Here's how they rated their fancy new shampoo on smell, shine, and mud removal.
Gabriella Paiella, Senior Writer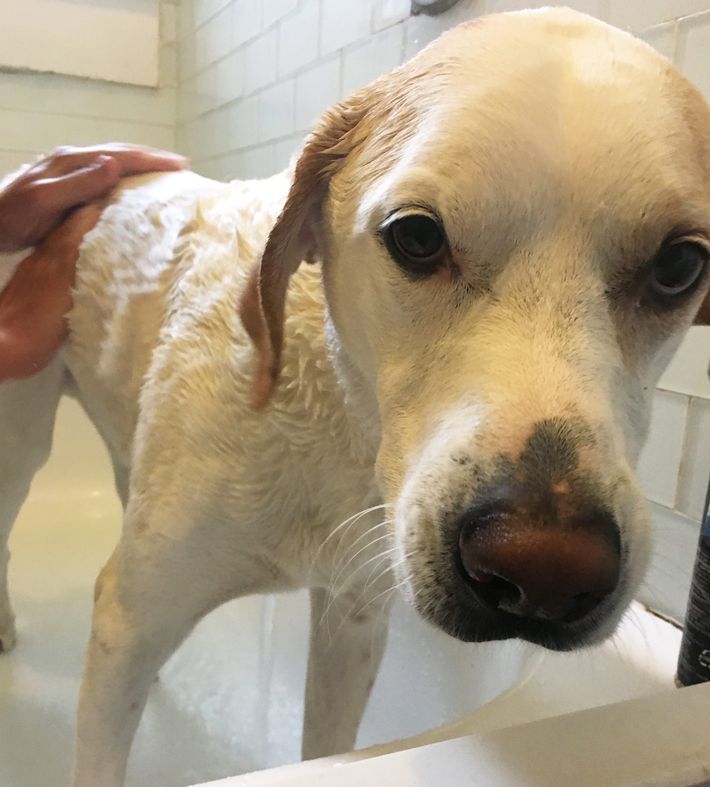 Fritz is a 60-pound white dog whose favorite hobbies include fetching, eating food off the street, being an extremely good boy whom I love so much, and lying down in gigantic mud puddles. So, when offered the chance to try a $28 luxury pet shampoo, we (I) gladly jumped at the opportunity. The most noticeable benefit of the Ouai shampoo was that it smelled great — and the smell lingered. I could still smell it instead of, you know, regular large dog smell a couple of days after his bath.
But overall, I didn't notice anything particularly special. His coat wasn't especially shiny and, if anything, his fur didn't feel as soft as it usually does after a wash. I suspect this is because there was no conditioner, since I had much better results when I tested out the Kibble Pet shampoo and conditioner. Fritz has no comment at this time.
Kelly Conaboy, Writer-at-Large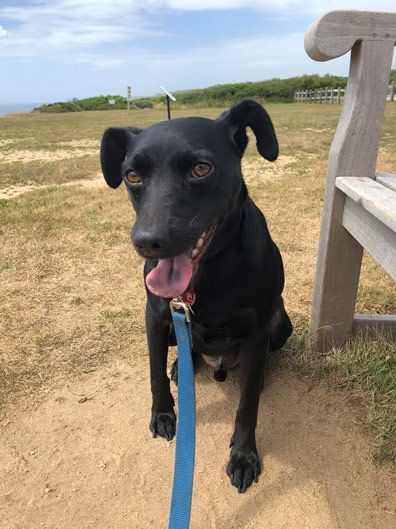 Like many dogs, my dog Peter hates taking a bath. Bringing his towel and his doggy shampoo into the bathroom — even if I'm very sneaky about it — always sends him running into his crate, where he hides, tail fluttering in fear, until I lure him out with a treat and capture him for bath time. Somehow he understood the Ouai Pet Shampoo was shampoo for him even though he'd never seen it before; I assume this is either because he is a genius or because he reads dog beauty blogs.
The scent is beautiful: lightly floral and very human. For a dog, however, I don't prefer it. I may be an outlier, but I love the scent of "unscented" normal dog shampoo. I love clean puppy smell — the scent so clearly and sweetly evokes memories of dogs and dog baths past.
This shampoo had good results, though, aside from its unhistoric scent. It's better than normal dog shampoo. Peter is naturally oddly shiny, so I can't give the shampoo credit for his shine, but it did make his fur softer than his normal shampoo, it foamed up nicely in the bath, and the scent lasted much longer. I gave him a bath in preparation for a trip we were taking and a few days in after hiking and going to beaches, he still smelled faintly of the shampoo. That's pretty good. I'll continue to use it every now and then, mainly for the softness. I love a soft pup.
In closing, I just read on OUAI's website that 15 percent of the proceeds from this product are donated to the Vanderpump Dog Foundation. As a steadfast supporter of both every dog and every Lisa Vanderpump property, this delights me. Thank you Ouai, and thank you Lisa Vanderpump.
Hillary Nelson, Product Manager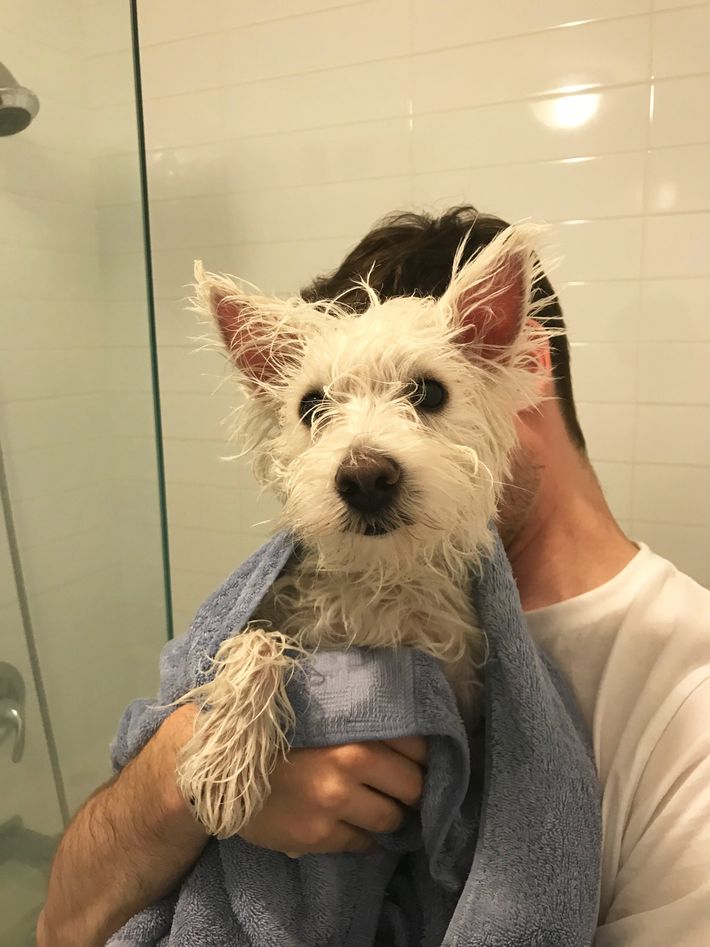 Our West highland terrier, Maxine, loves to roll around in the dirt at the park, so she gets bathed at least twice a week. I wanted a natural shampoo that wouldn't harm her skin or make her hair super wiry, that could handle tough dirt, and that smelled nice. Our current shampoo checks every box except for the smell test — it has a super fake sugar smell that's become the de facto scent of our lives.
As a fan of Ouai's human line, I knew the scent would be much more subtle. After using it, I can say that while it has similar consistency to other dog shampoos — that glossy pearl white that feels thicker than human shampoo — I was a bit disappointed in overall performance. It didn't lather, and we had to use a lot more shampoo (we did two rounds).
Plus, there's a disclaimer on the bottle that warns against the shampoo coming into contact with eyes. Our typical dog shampoo doesn't have this — it's even safe if Maxine tried to eat it, which has happened — so that was unsettling. The smell was much nicer, like a light cologne almost, but I don't know if Maxine loved it because she kept sniffing at it and sneezing.
Generally, I thought that it worked okay. But for our dog, I think we'll have to stick with our edible oatmeal shampoo until something better comes along.
Mia Leimkuhler Doré, Audience Engagement Associate Editor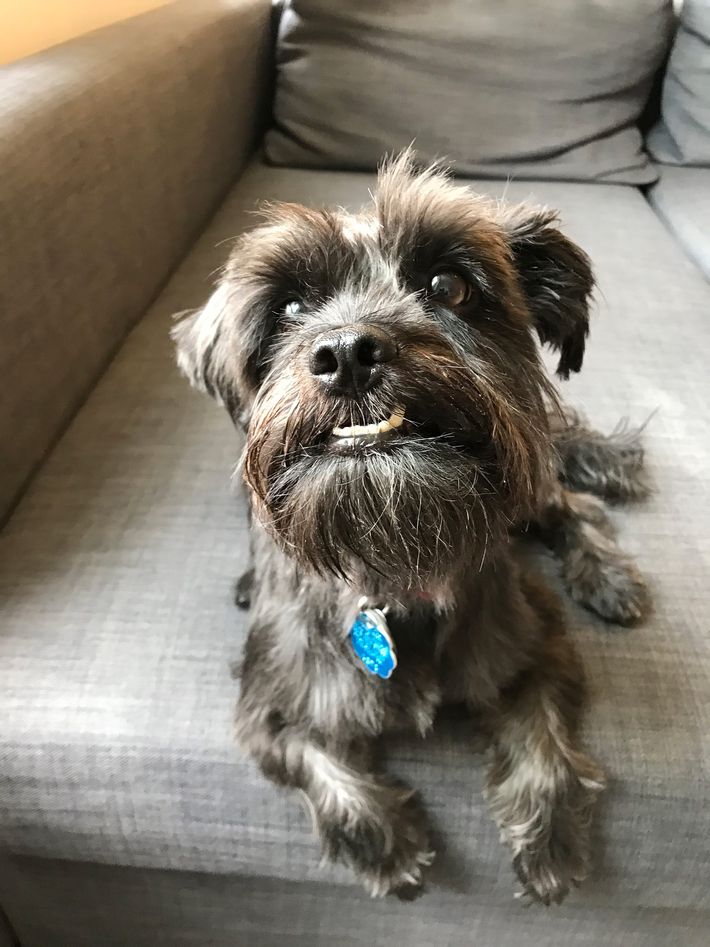 My dog Reggie is a tough little miniature schnauzer mix who picks fights with skateboards and vacuums, so I was curious how he'd feel about smelling like a pretty flower. It turns out he likes it just fine. My previous dog shampoo felt sticky in a weird way; it never turned into suds that I could easily distribute. With the Ouai shampoo, however, a little went a long way — a tablespoon or so took care of 13-pound Reggie, and I only re-upped a little bit to clean his beard. It also rinses really easily. I know some dog owners don't like their pet shampoos to lather up, but I do, mostly because it makes it easy to see and feel when the shampoo has been completely rinsed out.
After washing with Ouai, Reggie's hair settled into its usual schnauzer-y patterns and whorls, only fluffier, shinier, and so, so soft. I shoved him in my husband's face and exclaimed "Smell our dog!" He agreed: "He smells like clean dog, and he's very soft. This is good shampoo." Given how long a bottle would last us (plus, full disclosure, I'd tried it on my own hair and was pleased with results), I'd buy this. My dog now has better hair than I do and I'm okay with that.
Victoria Thevenot, Developer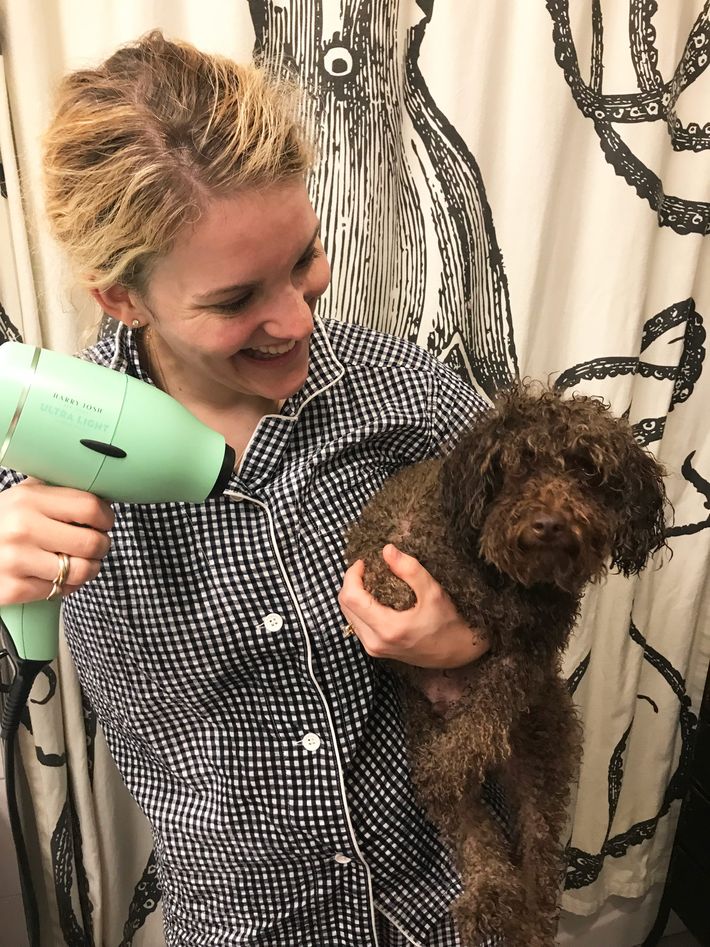 My husband and I both love the Ouai Wave Spray and Finishing Cream, so we were so excited to get our chocolate toy poodle Caldwell in on the action. Poodles have real hair instead of fur — Caldwell's is really fine and really curly. The shampoo got him nice and clean (and smelling fresh!) but it did leave his hair dehydrated. He didn't have his normal well-formed curls and instead was a little poofier than normal.
Even though Caldwell's hair is brown, like all poodles, he does get a bit of discoloration around his face from his eyes weeping. We have yet to find a shampoo that can clear that up, and unfortunately this one didn't help either. And I didn't love that the packaging says to wash immediately if the shampoo comes in contact with eyes. If Ouai ever comes out with a pet conditioner that's eye-safe, though, we would definitely be interested.
If you buy something through our links, New York may earn an affiliate commission.