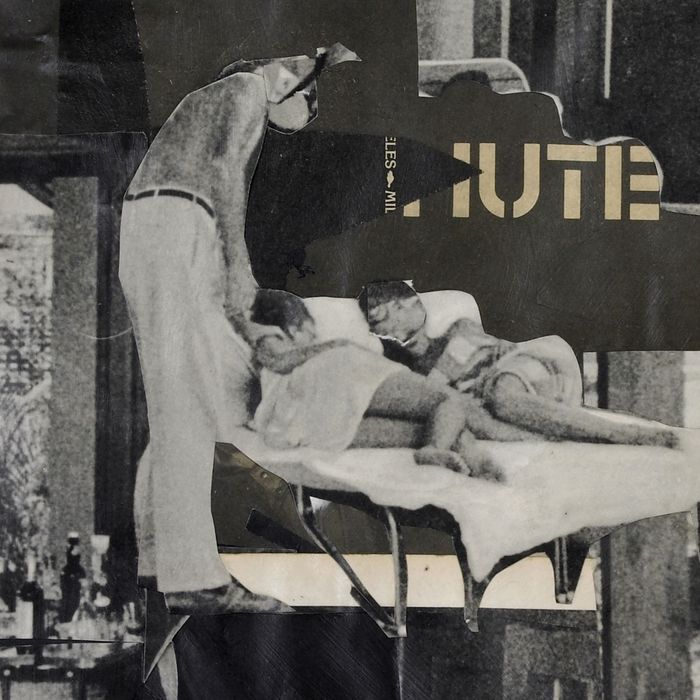 Photo-Illustration: James Gallagher
Get Sex Diaries delivered weekly.
New York's Sex Diaries series asks anonymous city dwellers to record a week in their sex lives — with comic, tragic, often sexy, and always revealing results. This week, a 25-year-old dating, ending an affair, and dabbling in threesome apps : 25, pansexual, single, Greenpoint.

DAY ONE
5:30 a.m. My alarm goes off and I quickly force it to snooze. I'm dreading this week already and my eyes aren't even open. My work week is going to be crazy, but at least A offered to have me stay at his place. A and I met on an app for threesomes. In my experience, everyone on the app is really open-minded — I've mostly met very cool, open, sex positive, body positive, kink positive people, both single people and couples.
6:15 a.m. I roll out of bed with just enough time to shower and grab my lunch from the fridge. I work for a fitness app that livestreams a class every weekday at 9 a.m., which means I get to work even earlier, at 7:30 a.m. A and I talked about my commute when we were together this past weekend — he lives three stops away from my work whereas my regular commute includes a mile-long walk and two different trains. Brutal.
9:40 a.m. We wrap on the live show at work and I check my phone to see a barrage of OKCupid messages from couples A thinks are cute. After we'd been seeing each other for about a month, we created a joint profile to find other couples interesting in playing with us. A is very into the idea of swapping with another couple. I'm very into how into it he is.
10:30 a.m. A texts asking if we can send the most recent couple some pictures of me. He also says he's excited to see me later that night at his place.
6 p.m. Yoga class. I'll be getting my teacher certification in the fall — I really need my daily dose of Zen on the mat.
7:15 p.m. A. reached out while I was in class. He asks me for a pre-shower video and I happily oblige. He's so gracious when I send him any photo or video. It's amazing how desired he makes me feel.
9:30 p.m. Finally at A's. He makes me a drink, whiskey, while he wraps up some work. Oddly enough it's my first time at his place and our first time spending the night together. Before this, he'd only ever come to my place and he never spent the night. I haven't been a big fan of sleepovers since I broke up with my last boyfriend over a year and a half ago. I sleep so much better alone, and during my rebound phase, I just didn't have any interest in spending the night with anyone.
11 p.m. A and I are in his bed talking when he takes off my underwear. I love how sex with him can go from very casual and chatty to intense. He asks me about traveling just as he puts his fingers inside me.
11:50 p.m. A's going down on me and I get really in my head about it. I tap out and tell him everything he does to me feels wonderful. He wants to talk about it and tells me all the right things about how there's never any pressure and I should tell him what I like. I know all of this. I've had this conversation so many times with my partners. I tell him that my ex would say the same things but would then get super defensive when I gave him any direction. I'm still working on telling people what I like … Eventually we fall asleep, kind of.
DAY TWO
6:30 a.m. I paw off my alarm so it doesn't wake A. I feel like I slept maybe 30 minutes.
7:30 a.m. Sitting down with a coffee and protein bar at the studio. The commute from his place was a dream. Starting to scheme about how I can stay with A more often …
10 a.m. We wrap our shoot for the day. It's been nothing but radio silence from A today, but I decide he should reach out first.
1:30 p.m. I go to my regular six-week hair appointment. In the past six months I've started bleaching my hair platinum and I got my first tattoo. My family thinks I'm having a life crisis, but I feel more like myself than I ever did.
4 p.m. I send a message to B in between processing to confirm we're still on for Friday night. He responds enthusiastically and platonically. We have to be careful when texting. I never know if his girlfriend or a colleague will be around …
B and I met at my last job and immediately hit it off as friends. I knew he was in a serious relationship — he lives with his girlfriend — but it didn't stop us from flirting at my desk. Cut to a month or so after I'd quit that job: B and I meet up for drinks and he confesses that if he were to cheat on his girlfriend he would do it with me. We've been hooking up any time his girlfriend is traveling, which is a lot, ever since.
4:05 p.m. I tell B I'm gonna need a drink after the week that I'm having. He agrees to that, but we both know that we'll end up at my place at the end of the night.
7:30 p.m. I break my rule for the day and text A to see if I can bring anything to his place tonight. I haven't heard from him all day but he responds immediately with a list of ingredients. Very mysterious.
9 p.m. We're making dinner together! I've always been the one in a relationship who can cook. A, however, is very good at things, knows seemingly everything, and is quite good looking. Why does he like me again?
11:30 p.m. A asks me about my plans for the weekend. I tell him I'm seeing B and then stupidly tell him everything about it. I feel the air get sucked out of the room.
12 a.m. Bedtime. A's exhausted, so we skip the sex.

DAY THREE
7 a.m. A asked that I give him a kiss before I sneak out the door for work. He's so cute and groggy.
2 p.m. Not accomplishing anything at work. I've been sexting with A since we wrapped the live show and I feel all hot and bothered. We've been talking about spit a lot, after seeing a scene in a movie recently.
4 p.m. I see someone walking their cat in a stroller and I text B about it. He's such a proud cat dad. We really are good friends. We just also happen to be having sex with each other.
9 p.m. Not staying at A's tonight means an extra early bedtime for me.
DAY FOUR
5:30 a.m. Snooze my alarm.
7:30 a.m. Mentally will my co-workers not to talk to me as I take my first sips of coffee at work. This morning reminded me how rough the commute from my place is.
9:45 a.m. We wrap our shoot. When I turn my phone back on, I have a text from L, a generic "How's your day going?" L and I have been seeing each other for a year now, and we've never defined what our relationship is. There was a brief window where I asked him to be exclusive with me, but about a week into that he asked to reverse that decision. We've been open with no strings ever since.
He has a lot of baggage from his last relationship so I don't think he's ready to be more than a good hookup. He's a really nice guy, and we have great sex (he's the first guy I had anal with), but since starting to see A I've lost the desire to see him and/or have sex with him. I love sex, so when I stop desiring someone it's a sign that things are coming to an end for me. That was a major sign at the end of my last relationship: I stopped wanting to have sex with him and pretty soon after ended the relationship. It was a big subconscious symptom that our relationship was going sour.
I think I need to break up with L.
9:47 a.m. I tell L a little bit about the live show this morning. I can't help but wish I was texting A instead.
12 p.m. Because of some last-minute changes, my manager tells me I can work from home tomorrow. A blessing after this long week of early mornings.
2 p.m. Leave work. Almost the weekend for me!
4 p.m. Therapy. I've been looking forward to this session for two weeks because of all my boy drama lately. My feelings for A have really solidified and I want to unload onto someone unbiased.
5 p.m. Great session. My doc thinks A and I have potential to be a real relationship and she urges me to stay honest with him. I'm surprised by how much I really want that.
DAY FIVE
8 a.m. Sweet, sweet sleeping in. Working from home is so good.
12:30 p.m. Yoga class. Today we're working on floating into handstands. I'm so close!
2 p.m. Feeling so Zen and so strong. I'm gonna look so good naked tonight for J!
6 p.m. A texts me to have fun tonight and my whole stomach tightens. I'm in such a pickle. He and I have been talking all week about how he feels a bit jealous about me seeing and having sex with another man. To me this is a crazy Catch-22. If I hadn't told A about B, then I wouldn't know that he feels jealous, but I also really regret telling A at all. It feels so stupid of me — of course the guy I'm developing strong feelings for is the one I decide to be so cavalier in telling him about my sex life. I'm starting to question if I even want to go through with having sex with B tonight.
8 p.m. Drinks at a cocktail bar ten minutes from my place. It's raining a bit, but we decide to sit outside anyway and enjoy the summer warmth.
8:15 p.m. We order our drinks and I tell B that things with A are going really well. I also tell him that I won't be having sex with him again after tonight. B is clearly sad, but he says he understands.
10 p.m. B and I are feeling these drinks so he pays for us and we head back to my place.
10:20 p.m. B runs his hands up my dress while I'm getting us water. We have sex in the kitchen standing at the sink, in the living room on the couch, in my bedroom on a daybed and in my bed.
12 a.m. B has a huge, beautiful dick, but it can be a lot. I call for a break to recover for a minute.
12:30 a.m. We both pass out. I think he would have liked a later night, but I'm still feeling those drinks and I'm exhausted.
DAY SIX
7 a.m. My alarm goes off. I have to volunteer for my farm share this morning. It's only a one-day commitment for the whole summer season, but of course the day I signed up for is the morning after seeing B and I'm beat.
7:10 a.m. B rolls over and immediately starts spooning me and touching my body — he clearly wants to fuck. One of the biggest things I miss about being in a relationship is morning sex.
8:15 a.m. We grab a coffee and head our own ways. I feel a little sad — that was probably our last time together. I think sleeping with him was more helpful than harmful for him. Even though people usually see affairs as a negative I don't regret this one.
12 p.m. Volunteering is over, so I head home.
9:30 p.m. Getting drinks with one of my friends from dinner and I give her the lowdown on A. She loves hearing about my sexcapades. She's been in a committed relationship for three years now. I feel nervous because I've told a lot of people about him, but I still don't know what we are.
10 p.m. A shows up at the bar and I introduce him to my friend. He thinks he's really awkward, but I disagree.
1 a.m. A and I end the night at a jazz bar. He kisses me on the mouth before I get on the subway back to my place. I definitely have feelings for this man.
DAY SEVEN
10 a.m. I slept through my alarm and missed my yoga class. Ugh.
11 a.m. Finally roll out of bed to start my day of cooking. I'm going on a trip this week and want to cook and freeze all of my farm-share veggies before I leave.
1 p.m. Feeling like a balabusta! I made quiche and soup to freeze, did laundry, and set up dinner reservations with my cousin tonight.
2 p.m. My sister was supposed to come to a concert at Carnegie Hall with my cousin and me tonight, but she just bailed. I reach out to A and surprisingly he agrees to come with me!
8:30 p.m. A is late as usual. Bless him.
8:47 p.m. A and I sneak into the back of the mezzanine. He has his hand on my thigh the whole concert. I have visions of a future with the two of us … threesomes, too.
While we haven't met anyone on the app yet, it's still definitely on our minds — mostly A's. We're thinking of going to some happy-hour events that an NYC sex party organizer throws to meet couples IRL.
A and I both have had threesomes where we were the single people coming into an established couple. It's exciting to think of a full swap with another couple though or being the couple bringing in a third. In the past, for me, it was an excuse to have sex with women without dating them, and a little bit as a way to "do it for the story." Now I'm excited by A's enthusiasm for group stuff. He's adamant that he wants to pursue group play with me specifically — swoon.
Get Sex Diaries delivered weekly.
Want to submit a sex diary? Email sexdiaries@nymag.com and tell us a little about yourself.