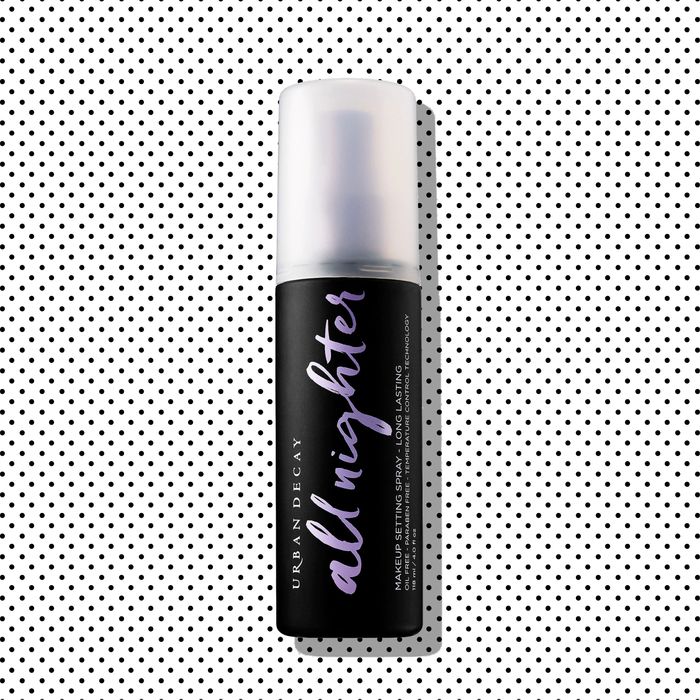 Welcome to that special season of the year when your carefully applied no-makeup makeup starts to drip down your face the moment you step out the door. Thankfully, there's a product for that: setting spray. Mist it over your skin, and your makeup becomes impermeable. Setting sprays aren't new, but for some reason, it's taken me decades to start using what the rest of the internet has known about all along — and now my life is radically improved.
If you, too, have resisted until now, may I recommend Urban Decay's All Nighter? It's so legendary that there are multiple memes about how it stays intact through rain and dunks in the pool. Here's how you use it: Once you're confident that your makeup routine is complete — and you'd better be confident, because using a makeup setting spray is like laminating your face — you generously mist it all over, keeping your eyes closed. The spray should feel cooling but not tingly. Unlike a face mist, it will dry in seconds.
And for the next few hours, you'll be like the post office: neither snow nor rain nor heat nor gloom of night will affect you and your makeup. Your iPhone won't become smeared with a makeup smudge the same shade as melted Haagen Dazs coffee ice cream when you use it to talk. Your eyeliner will remain as sharp as your mind, even through MTA delays.
Some people say this spray is so powerful that it lasts for up to 16 hours. In my experience, it's good but not bionic, which is fine, as I'm wary of anything that lasts too long. If you're worried that the spray will make bacteria cling to your pores and cause you to break out, don't. Despite its longwear abilities, I found it was easy to wash off after a double-cleanse, and my skin hasn't seemed worse for wear.
If you buy something through our links, New York may earn an affiliate commission.