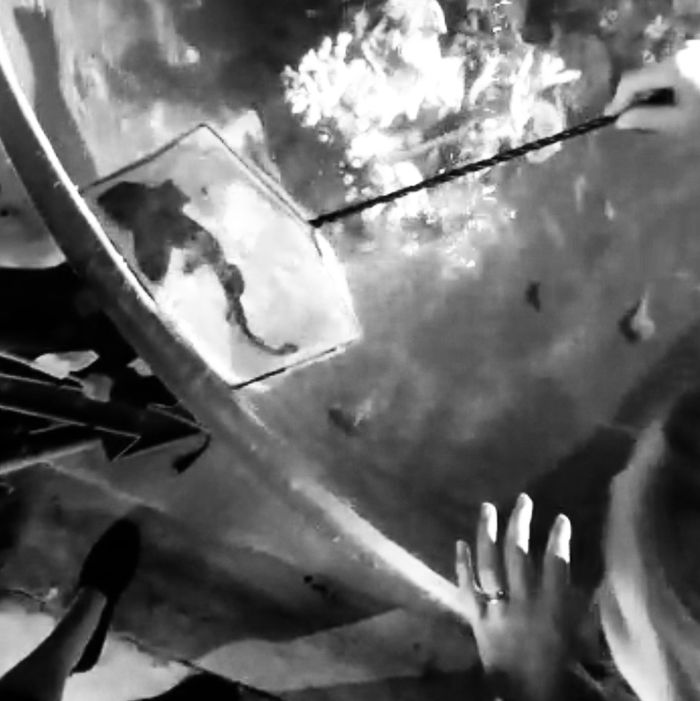 Photo: SAN ANTONIO AQUARIUM/HANDOUT/EPA
Some want money, others want power — or glory, fame, jewels, yachts. But three scammers at the San Antonio Aquarium in Texas — armed with a net, a bucket, a blanket, and a baby stroller — just wanted Shark Week to go on.
Their target: Miss Helen, a young, 16-inch-long female horn shark, just another ordinary animal minding her own business in one of the aquarium's interactive shark touch pools. The alleged shark-nappers — two men and a woman, with a baby in tow — targeted her by sneaking into the aquarium's back entrance, according to the Washington Post. They then headed toward the touch pool, where they lingered until the perfect moment struck.
"They staked out that exhibit waiting for the employee to leave," the aquarium's owner, Ammon Covino, told the Post. "The minute she walked out the door, they grabbed that shark."
According to a statement posted on Facebook with surveillance-video footage, the aquarium said the suspects took the shark into one of their filter rooms, where they emptied a bucket full of bleach solution into a display's filtration system, posing potential risks for the other animals. They used the apparent "sanitation bucket" to carry Miss Helen out of the pool.
When the men reappeared on the cameras, one of them was seen holding something bulky wrapped in cloth under one arm, which he loaded into a baby stroller. Meanwhile, the woman in the footage stood close by with the baby. The aquarium's manager, who saw them in the parking lot, told the Post he asked the men why there was water leaking from the stroller, and he replied that "they had spilled a Yeti cup onto the stroller and they were leaving in such a hurry because their baby that was with them needed medication."
By Monday night, two people had confessed to stealing the shark, Leon Valley Police Chief Joseph Salvaggio told reporters. He also said Miss Helen was found alive in the garage of a San Antonio home that looked like a "mock-up" of the aquarium — the thieves were apparently amateur aquarium enthusiasts, and had built her a big pool with plenty of colorful coral inside.
"When we first got the call, we thought it was kind of a hoax being that it was Shark Week last week," Salvaggio said. "But it turns out someone actually went inside the aquarium there in Leon Valley and stole a horn shark."
One 38-year-old man has been charged with theft, while charges against the other two suspects are pending; officials are looking into whether the sharknapping will necessitate federal charges. Miss Helen is currently back at home in the aquarium, and seems to be in good health.