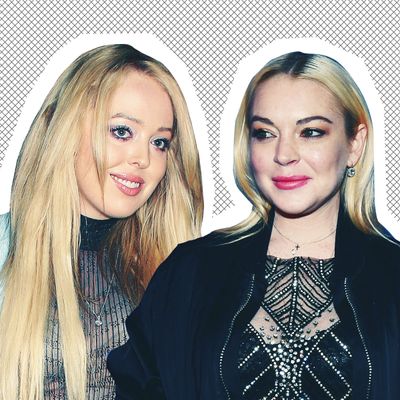 Tiffany Trump and Lindsay Lohan.
Photo: Getty Images
As promised, Tiffany Trump recently flew to Greece to hang out with burgeoning reality star Lindsay Lohan. Joined by friends including Andrew Warren, Tiffany was featured in several social-media pictures and videos that showed what a great time the pals were having in Mykonos with Lindsay — including one in which the Parent Trap actress appeared to style the president's daughter's hair (how cute).
But, as Guest of a Guest points out, some of the social-media evidence of their vacation appears to have been deleted. And so now, we must wonder: What happened?
Tiffany and her buds apparently hung out with Lindsay at the Lohan Beach House Mykonos on Friday — and pictures of the night were shared by both Lindsay and Andrew on Instagram. The next day, they were deleted. But then, Andrew posted a picture of Tiffany and their friends on a yacht (of course) — and Lindsay left an … interesting … comment: "Did @lawyer_com and @realdonaldtrump approve of this? Why would you post this?"
So, is Lindsay implying that President Donald Trump — whom she has spoken out in, erm, support of in the past — and Lawyer.com — where she is, erm, a spokesperson — did not approve of her post and force her to remove them? Or is she simply joking around? Hmmm.
While I'm certainly leaning toward the former (we all know Lindsay isn't afraid to say what she means on social media), who knows! But at least the friends (?) will always have Greece …