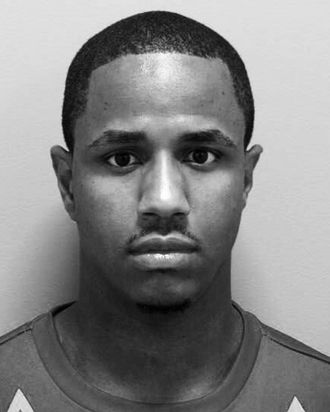 Danueal Drayton.
Photo: NYPD
In mid-July, police began searching for Danueal Drayton, a 27-year-old Connecticut man, who allegedly raped and killed 29-year-old Samantha Stewart, a nurse from Queens with whom he'd matched on Tinder. They eventually tracked him to a hotel room in Los Angeles; when a regional task force barged into his hotel room, they found him holding another woman captive after he had sexually assaulted her. Now, as more details emerge, police suspect that Drayton may be a serial killer who seeks his victims on Tinder and ride-share apps.
On Monday, Drayton pleaded not guilty in Los Angeles County Superior Court to charges of sexual assault and attempted murder in the case of the North Hollywood woman, who met Drayton in an Uber ride. Drayton is also wanted in New York for the rape and murder of Stewart, whom Drayton reportedly met on Tinder. New York investigators are also looking into other cases to which Drayton is tied. For example, a month before Drayton allegedly killed Stewart, detectives in New York's Special Victims Division were investigating a Brooklyn woman's report that Drayton choked and raped her after they went on a Tinder date.
While Drayton has been linked to the three above victims, the Connecticut man claims to have far more. According to CBS Los Angeles, when he was interviewed by investigators after being arrested, Drayton bragged about having committed at least six other murders on the coasts. However, no one tied to the other alleged victims has come forward so far.
"If you look at the body of work, what just took place, it's not much of a stretch unfortunately to think that there are going to be other victims," Dermot F. Shea, the chief of New York detectives, told the New York Times. "We need those victims. We need them to come forward for a lot of different reasons."
In just the North California case, Drayton has been charged with attempted murder, forcible rape, false imprisonment by violence, and sexual penetration by a foreign object. His bail is set at $1.25 million.