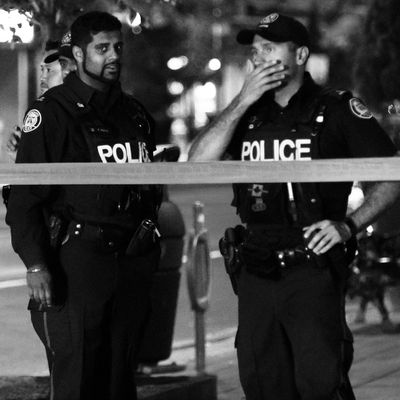 Photo: COLE BURSTON/AFP/Getty Images
On Sunday night, a shooter opened fire on a busy Toronto street in the popular Greektown district, killing at least two girls and injuring at least 13 more people. The shooter is also dead, the Globe and Mail reports, though it is unclear whether he was shot by police or died by suicide.
According to CBC, the victims killed by the shooter include an 18-year-old young woman from Toronto and a 10-year-old girl from the Greater Toronto Area. Toronto Police Chief Mark Saunders has said that those injured during the shooting range in age from 10 to 59, with injuries also ranging from minor to serious. In total, 16 people suffered gunshot wounds, including the shooter.
The mass shooting started around 10 p.m. on Sunday night, as the lone gunman randomly shot at pedestrians walking along Toronto's busy Danforth Avenue. He then open fire on crowded restaurants, the Globe and Mail reports.
As of Monday morning, the identity of the shooting suspect has not yet been released, though police have stated that he was 29 years old. He was reportedly found dead in an alley after a shoot-out with police on Sunday night. Toronto police have confirmed that the shooter used a handgun.
The horrific shooting comes only a few months after a van plowed into pedestrians on a Toronto street in April, killing ten people and injuring more than a dozen others. It is believed that the suspect in that massacre, Alek Minassian, 25, was motivated by "misogynistic beliefs." Most of the victims killed in the van attack were women.
Toronto police chief Mark Saunders said late Sunday night that the motivation behind the shooting is unclear at this time. He said, "When we can provide more information we definitely will, but right now it's important we don't speculate."
This post has been updated to include new information about the victims.