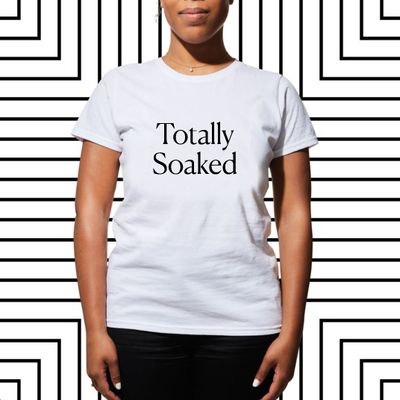 As promised, new and timely slogans that we're thinking about a lot will be added to the Cut Shop each week. Here's our latest addition!
As a very horny Ryan Gosling says to Rachel McAdams during a flash flood in The Notebook, the Cut's Horny Week wasn't over this Friday. It still isn't over!
Okay, yes, it's technically over. It began small, as all tsunamis do, with the very specific things that turn us on, like libraries and men's thumbs. Then, we expanded to broader territory with Bruce Springsteen and Gilmore Girls. In the end, we learned a lot, made some mistakes, and even had some regrets. But the one takeaway is that we're totally soaked. And that water sex sucks.
If every week is horny week for you, shop our "Totally Soaked" tee, below. Or, in the spirit of Horny Week, maybe send it to someone you think about a lot.
See all the Cut Shop T-shirts, here.