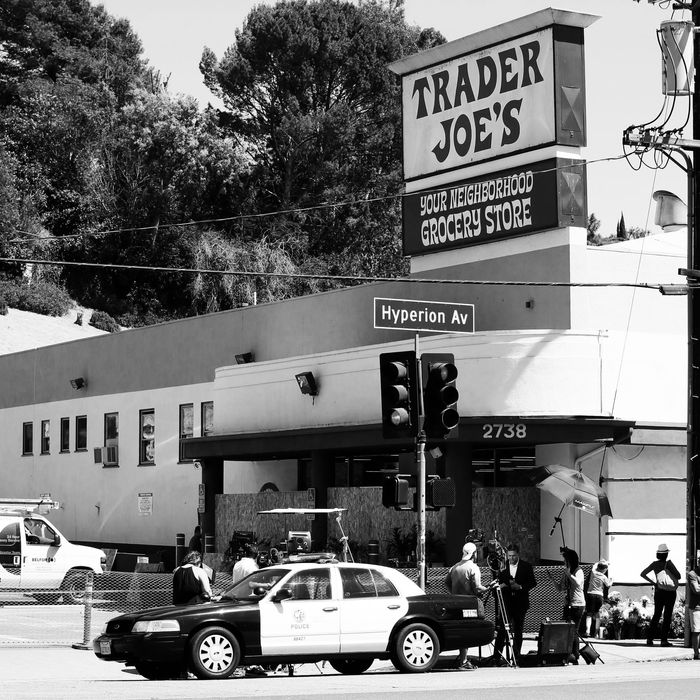 Trader Joe's.
Photo: Damian Dovarganes/AP/REX/Shutterstock
On Saturday, a woman was shot and killed during a hostage situation at a Trader Joe's grocery store in south Los Angeles. Now, the Los Angeles Police Department has confirmed that one of their officers shot the woman, a manager at the store.
As the Los Angeles Times reports, the hostage situation broke out earlier on Saturday after a man, Gene Atkins, allegedly shot his grandmother multiple times during a violent argument. The suspect then forced his girlfriend into his grandmother's Toyota Camry. Police tracked the car using the vehicle's anti-theft system and a chase occurred. Atkins then crashed his car into a utility pole and ran into the Trader Joe's. A three-hour hostage situation ensued in the grocery store.
A woman, who was identified by family members as 27-year-old Melyda Corado, was killed during the ordeal. On Tuesday, the LAPD finally released details of her death.
According to the Times, Atkins fired at officers as he ran toward the store, and the officers shot back. At that time, the store's manager stepped into the parking lot — and was subsequently killed by an LAPD officer during the gun battle.
The Times notes that the LAPD's decision to open fire in a crowded parking lot full of bystanders has drawn criticism. The victim's neighbor, Jesse Palmer, told the Times, "How are police deciding to open fire in a packed place, in the afternoon, on a Saturday? It's not like it's an empty lot. It's not like it's an abandoned warehouse. What sort of protocol is required before you shoot into an area that's congested and booming with commerce?"
However, retired Los Angeles County Sheriff's Department commander Sid Heal, told the Times, "We try to have a clear field of fire, but obviously the suspect has a substantial, even a decisive, advantage if we don't return fire. There is no easy answer."