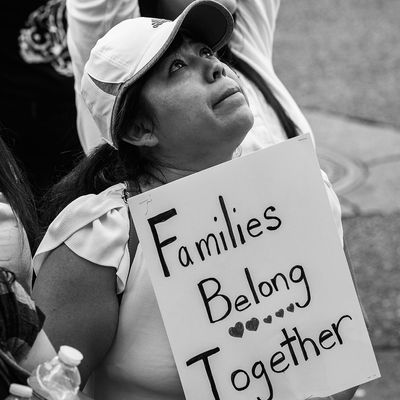 Photo: David McNew/Getty Images
A father and toddler, both of whom appear to be be U.S. citizens, may have been accidentally separated for a year by officials enforcing the Trump administration's immigration policy, the Guardian reports.
The American Civil Liberties Union filed a lawsuit against the U.S. government in late June over the Trump administration's policy of separating migrant families at the border. Federal judge Dana Sabraw then set a deadline for the government, stating that all separated children under the age of 5 must be reunited by July 10.
In a hearing over the matter on Tuesday, the DOJ informed the judge that, out of the 102 cases of younger children in its custody, not all can be currently be reunited with their families. Per the Guardian:
It noted 27 cases where it found reunification was not currently feasible, including one "because the parent's location has been unknown for more than a year … and records show the parent and child might be US citizens."
Before this, the DOJ only revealed that the location of the child's father was unknown. Both the ACLU and the court just learned on Tuesday that the child and father may be U.S. citizens.
Lee Gelernt, the deputy director of the ACLU's Immigrants' Rights Project told the Guardian, "The fact that a citizen got caught up in this mess shows just how poor the government's record-keeping was, and this is just the latest example … It actually happens much more frequently than you would believe. They make mistakes."
During the hearing, the DOJ told Judge Sabraw that 38 children under the age of 5 would be reunited by the Tuesday deadline, with 16 being reunited "soon thereafter" and another 20 if the parents can be identified. However, the judge said during the hearing that because the families were improperly separated, he would not extend the deadline. The Guardian notes that this means the government is in violation of a court order.