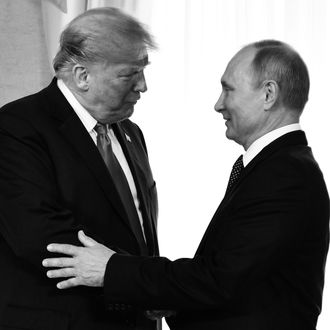 Melania Trump, Donald Trump, Vladimir Putin.
Photo: Aleksey Nikolskyi/AFP/Getty Images
Donald Trump and Vladimir Putin spent today at a much-awaited summit in Helsinki, Finland, during which they enjoyed lunch in an actual Hall of Mirrors; Trump denied that there was any Russian collusion in the election; and we were made to witness an awkward moment involving a soccer ball.
"I'll give this ball to you, and now the ball is in your court," Putin told Trump in an extremely natural moment during their joint press conference, before presenting him with a soccer ball. Russia has just wrapped up hosting the 2018 World Cup, and Putin added, "All the more that the United States will host the World Cup in 2026."
"That will go to my son Barron, we have no question. In fact, Melania, here you go," Trump replied, before throwing the ball to his wife to take care of — a rare show of public exercise.
Time to break out the orange slices.