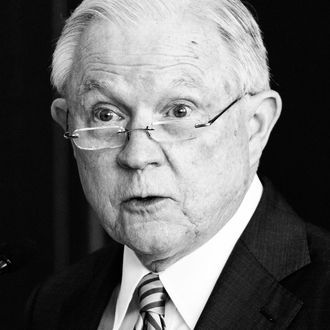 Jeff Sessions.
Photo: Jessica Kourkounis/Getty Images
Attorney General Jeff Sessions joined in with a crowd of high schoolers chanting "lock her up" on Tuesday. Sessions was delivering a speech at Turning Point USA's High School Leadership Summit when teens in the crowd began the chant. The attorney general chuckled before adding a meek "lock her up" himself and adding, "I heard that a long time over the last campaign."
It's true. Jeff Sessions — and the rest of the United States — heard the chant plenty during Trump's presidential campaign against Hillary Clinton in 2016, from Trump supporters who wanted to see Clinton jailed. It's unclear why in 2018, President Trump and his supporters still enthusiastically yell the phrase at rallies across the country.
Turning Point USA is a conservative college group founded by Charlie Kirk, who is frequently described as a "rising star" amongst conservatives; it's perhaps best known for suffering a minor implosion after one member wore a diaper to a protest. The High School Leadership Summit was hosted in Washington, D.C., and included speakers like Peter Thiel, Secretary of Education Betsy DeVos, UN Ambassador Nikki Haley, and superstar Anthony Scaramucci. What a lineup.
Unsurprisingly, many people found it to be kind of terrible that the attorney general of the United States was getting a good laugh about locking up the president's former political opponent — a full 20 months after the election was over.