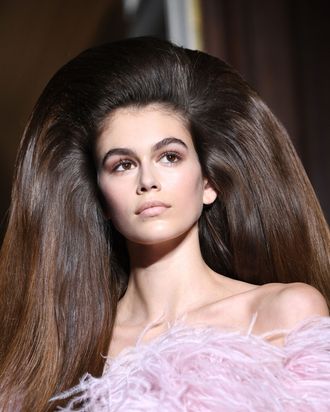 Kaia Gerber.
Photo: Pascal Le Segretain/Getty Images
Big hair is usually reserved for southern beauty pageants, Lana Del Rey, and Priscilla Presley. But yesterday it made its way to the haute couture Valentino runway show, proving it also pairs well with gowns and opera music.
Hairstylist Guido Palau fashioned the larger-than-life look. Palau is used to creating editorial styles for runway shows — he frequently works with Moschino, Versace, and Marc Jacobs.
Only a few Valentino models wore the blowout. Others had slicked-back ponytails or floral headpieces. The mishmash was intentional — Valentino designer Pierpaolo Piccioli described his inspiration as "Renaissance meets Versailles meets '60s whatever." He also turned to "Greek mythology, 17th- and 18th-century painting, the films of Pasolini and the photographs of Deborah Turbeville, medieval armor, and Ziggy Stardust," to build his collection, according to Vogue. It's a lot, but it worked.
The outfits themselves included feathers, patchwork, saturated colors, and capes. For the finale, opera music blared from the speakers as showgoers gave Piccioli a standing ovation. Note to self: buy hair spray.