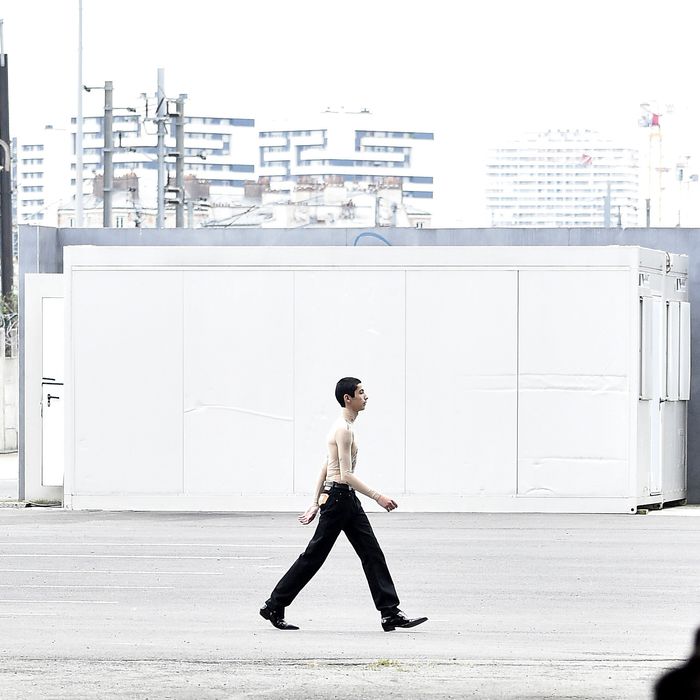 A look from the 2019 mens and womenswear show.
Photo: Kristy Sparow/Getty Images
Vetements does not do Haute Couture Week the way other brands do Haute Couture Week. The convention-challenging label held its spring 2019 mens and womenswear show on Sunday under Boulevard Périphérique (think of it as the BQE of Paris). Invitations came in the form of heart-shaped Bavarian gingerbread cookies, which the throngs of press, buyers, and scene-makers wore on ribbons around their necks. One fan rode in on a golf cart wearing a full set of medieval armor, his face painted like one of the members of the rock band Kiss and his long black hair flowing.
This wasn't the first time the hyped-up brand presented its streetwear-leaning show at couture week (the first was in January 2017 at Centre Pompidou) but it was the most extreme juxtaposition yet. Beneath the highway, guests were seated at two massive yet unassuming banquet-style tables with plastic seats, each one decorated with a white tulle bow. The seats were unassigned, and editor-in-chiefs mixed with hypebeasts.
During the show, street-cast models from designer Demna Gvasalia's native Georgia walked across the table tops. They sported everything from skin-colored tattoo T-shirts to S&M-inspired black leather one-pieces complete with zippered balaclavas (all in the 91-degree weather, mind you). The designer said the collection was "personal" and inspired by family, war, sex, and violence.
"It's a very different way of working for me, because I always made collections that were just about clothes," said Gvesalia, who was wearing a white T-shirt with a target on the front and bullet hole in the back. "I changed and my approach to fashion changed. I realize that I need some storytelling. This season I went back to my actual roots, which is this country that is troubled."
It was a reinvention of sorts, but the brand retained some of the quirks that made it famous. Sneakers were covered in dangerous-looking silver spikes, while sweatshirts had a hole at the back of the neck which long-haired models tucked their ponytails into. "Oversized hoodies are what I wore as a kid," Gvasalia explained. "I wore them from my cousins that had more money. I didn't know fashion history back then — it was kind of my education as a child."
The shoulder-padded T-shirts (a riff on styles from past seasons) were inspired by style of clothes his grandmother still wears today. The heels of the shoes were a very literal interpretation of the Eiffel Tower key rings sold to tourists. And there were plenty of Georgian motifs, including sweatshirts printed with the country's name its native script — and a t-shirt printed with what Gvasalia says is the worst swear word in his language. "In Russia, it's one of the most vicious swear words you can tell someone. If you want someone to hit you in your face in Russia, that's what you should say. It's untranslatable."
As the label's tenth show and fifth anniversary, the designer saw this show as a sort of celebration of concept. "It's the first [show] where I really tell my story," he told a group. "I told my shrink she should come see this show, because it would open a lot of doors to unanswered questions." Once the production ended, the music started again and the space opened for drinks — and snacks for those few brave souls who actually decided to eat their invitations.
This post has been corrected to reflect that the collection included both 2019 menswear and womenswear, and that only one shirt was printed with the Russian insult.