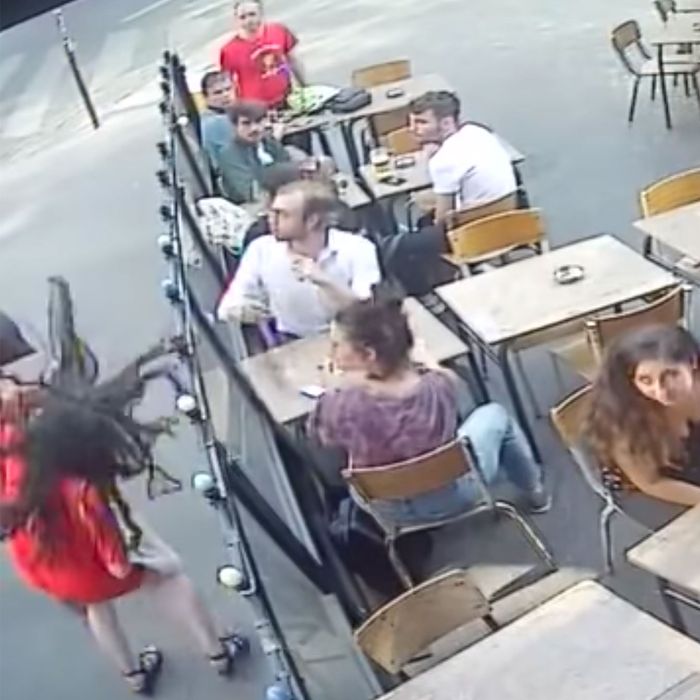 Surveillance video of the incident.
Marie Laguerre, 22, was walking back to her apartment in Paris' 19th arrondissement last week, when a man began shouting vulgarities at her.
"He wasn't the first one that day, and I was tired," she wrote in a Facebook post. "So I told him to 'shut up.'"
But the harassment did not stop there. Laguerre's retort "didn't make this man happy," she explained. "After throwing an ashtray at me, he doubled back and followed me up the street. He hit me in the face, in the middle of the street, in front of dozens of people."
Video of the disturbing incident, captured by a surveillance camera outside a café, and shared by Laguerre on her Facebook page, has gone viral in France, accumulating over 1 million views in less than a week, and reenergizing a nationwide conversation about street harassment.
In an interview with the newspaper Le Parisien, Marlène Schiappa, France's gender-equality minister, said she was "outraged" and emphasized that a new law that would impose fines of 90 Euros (or about $105) on street harassers is set to be adopted by Parliament this week, and the first fines should be handed out in the fall.
"There is some reluctance, some say we will kill the culture of the 'French lover' … if we punish street harassment," Schiappa told Reuters about the measure back in March. "But it's the opposite. We want to preserve seduction, chivalry, and 'l'amour à la française' by saying what is key is consent. Between consenting adults everything is allowed; we can seduce, talk, but if someone says 'no', it's 'no' and it's final."
Laguerre, meanwhile, says she is still shaken by the attack, but that she's happy it was caught on camera, and that people have been forced to confront the violence so many women face every day.
"This isn't about me anymore," she told Le Parisien, "It's about all women. It happens every day, and women talk about it, but as long as it keeps happening, we can't talk about it enough."