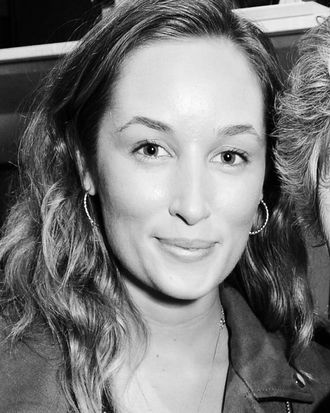 Yvonne Bannigan.
Photo: Richard Young/REX/Shutterstock
The former Vogue staffer who was arrested and charged for allegedly stealing more than $50,000 from her boss wants everyone to know that this whole grifting accusation has simply been "a misunderstanding."
The above argument was made by the ADA in Manhattan Criminal Court on Wednesday, where 25-year-old Yvonne Bannigan, who's facing felony charges of second- and third-degree grand larceny, rejected a no-jail plea deal. Nearly three months ago, the Irish-born former assistant to Grace Coddington was arrested for allegedly charging purchases to her boss's credit card, as well as reselling Coddington's goods on an online consignment shop. In total, Bannigan reportedly stole $53,564.
Defending his client in court, Michael Cornacchia argued that Bannigan is innocent, insisting that "she didn't do anything wrong."
"This case is driven by Grace Coddington, and as such, her credibility, recollection, and motives in bringing this case will be scrutinized by us and hopefully the district attorney," Cornacchia said.
In response to the arguments that Bannigan is innocent and that the allegations against her are a misunderstanding, Travis Wolf told the court that the people's understanding of the charges are perfectly clear.
"The people have evidence that there was no misunderstanding, and that the defendant abused the trust of the complainant and used her credit card as a personal ATM," Wolf said.
Authorities will present the felony larceny case to a grand jury on Thursday.