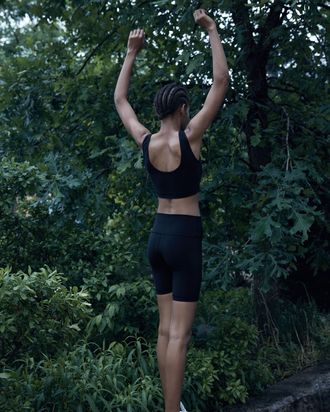 When Christine Centenera and Josh Goot launched their "anti-fast fashion" label, Wardrobe.NYC, in December 2017, their tightly edited collection of essentials sold out within weeks and was worn by everyone from Virgil Abloh to Nicole Kidman. Today they debuted their second wardrobe to the public, a new collection of luxury sportswear.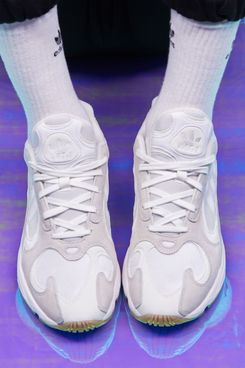 Centenera and Goot hope to streamline the luxury fashion system by delivering all-black and white wardrobes in bundles. Imagine a cereal box variety pack, but instead of Fruit Loops, Corn Flakes, and Apple Jacks, you get a 10-piece athletic set (for a casual $1,500).
For women, this drop includes a crop top, tank top, and bike shorts, plus a long-sleeve T-shirt, leggings, track pants, a track top, a windbreaker, and a gym bag. For men, the same, but swap the first three items for a T-shirt, track shorts, and running shorts. On top of all that, everyone gets a pair of exclusive, limited-edition Adidas sneakers — the Yung-1's in white and light grey with an exclusive gum sole.
Around 1,000 total wardrobes are being sold in this drop, and nothing is sold separately. The brand's first full collection had the same model with eight pieces for each gender, but customers could choose between a four-piece wardrobe for $1,500 or the full one for $3,000. The latter actually sold more, so clearly they hit a nerve.
Centenera has a long career in fashion and is currently fashion director of Vogue Australia, where she's worked since 2012. She also recently styled the Louis Vuitton men's show with Abloh, with whom she has a history of collaborating on both Off-White and other projects. Goot, her Wardrobe.NYC co-founder, has a background in fashion as well and launched his own eponymous label in 2005.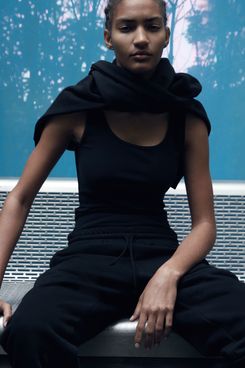 It's easy to imagine Wardrobe.NYC's second release in the same closet as its first, which included more work-appropriate essentials like a blazer and slacks. But with the Adidas collaboration, Goot and Centenera aim to bring a new audience to the brand as well – one that appreciates good design, and a trendy "dad shoe."
"We envisioned how people, including ourselves, can practically wear the clothes and weave them into their wardrobe in an organic way," Centenera said of Wardrobe.NYC after its launch this winter. In other words, just because these luxurious bike shorts come in a sports pack with sneakers, doesn't mean they can't be worn separately with Céline heels – a look that Centenera herself gravitates toward.
You can shop the second Wardrobe.NYC drop here.