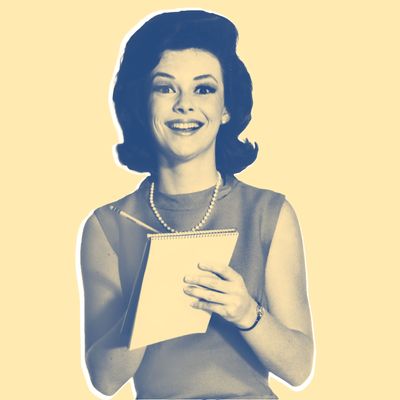 Photo: Getty Images/SuperStock
Hannah Orenstein is the author of Playing With Matches, a novel based on her time as a matchmaker for a dating service in New York.
Growing up, I was obsessed with this column in the Boston Globe Sunday magazine called "Dinner with Cupid." Two people would go out, and then the magazine would interview both people about how it went and publish a rundown of their date. When I got to college, I pitched a similar version for the NYU student-run campus blog. I set up two students and chose where they'd go out. I had so much fun with it, and people loved it. The column really took off. I definitely had no idea what I was doing, but I knew I really enjoyed it.
I also really idolized E. Jean Carroll, the advice columnist at Elle. I had an internship at Elle the fall of my junior year of college, and I got to do a transcription of a four-hour long conversation between her, Erica Jong, and another Elle editor. Being a fly on the wall for these incredible women talking about books and sex was the most iconic, legendary thing I've ever gotten to do. After that project, I shot E. Jean an email thanking her for allowing me to work on it and letting her know that I also did some matchmaking on campus, because I knew she had a matchmaking company called Tawkify. I really just meant it as a way to show her that we had things in common because I loved her work so much, but a minute after I sent it, I had an email in my inbox saying, "How can I convince you to come work for me?"
Before I started working with clients, there were a series of video trainings that aspiring matchmakers from all over the country would Skype into. We were encouraged to match people based on looks and status, with the implication that if two people consider themselves equally attractive and equally successful, they're more likely to feel like they click. Once I finished my training, I started working one-on-one with clients. I would meet a client for lunch, cocktails, or coffee, and I would just talk to them for two hours about their past relationships, what they were attracted to, what they were looking for, what their deal-breakers were. I wanted to get a very clear understanding of what their life was like, who they were as people, and what was important to them: Do they travel a lot? Do they have a lot of friends? What are their hobbies?
I found that women tended to be more picky when it came to lifestyle elements, whereas men tended to be more shallow when it came to looks. A lot of men had issues with being honest with me about their physical preferences. Like, they'd say, "She has to be really fit. She has to be really athletic." But what they meant by that was she had to be really skinny. So I'd counter it and say, "You know, people of all sizes can work out and be athletic and in great shape." And they'd say, "You know what I mean. A woman has to be fit." And I'd say, "Are you fit? Do you go to the gym?" And they'd say no. They didn't see the irony in that. With women, the conversation was generally more about being open-minded if a man didn't fit every item on the checklist of preferences, especially when it comes to things like how far away they lived, how much money they made, what kind of job they had.
There was one client who said she only dated successful, world-famous, A-list DJs, and her matches also had to be physically fit and really into literature, specifically the genre of literature she preferred. And I had a lot of men that wanted to date a person who looked like Scarlett Johansson. One man got really specific and said, "Scarlett Johansson with a yoga instructor's body." A lot of women had specifics like: must be over six feet tall, must make more than $200,000 a year. One man — he wasn't a client, but I screened him as a potential match — told me that he had to date someone who was five foot seven, thin, busty, blonde, and she had to make enough money to support herself, unless she worked as a model or in fashion, in which case he wouldn't mind helping to support her. He wanted to work with me, too, but I turned him down.
I used a variety of different methods to find dates for my clients. My company had a database of thousands of single people in New York and other cities across the country, and I would go through that and make a list of all the people I thought could potentially be a good fit. Then I'd meet up with them, call them, or email them to learn more about who they were. If I wasn't thrilled with database options, I would send people with great careers messages on LinkedIn, stop people on the subway, or find people through my own network of family and friends. I would also sometimes use dating apps. I think I had eight different dating apps on my phone that summer. This was 2014, so it was like Tinder, Coffee Meets Bagel, JSwipe. I had my own real name, age, and photos on the dating apps, and I swiped based on my clients' preferences.
My approach depended on the vibe I got from a person's profile. Sometimes, I would strike up a conversation about the user's profile and wait a few messages to reveal that I was a matchmaker working on behalf of my client. Other times, I would write something like, "Hey! I know this sounds unusual, but I'm actually not here for myself. I'm a matchmaker at a dating service, and I have a hunch that you and my client might really hit it off. Here's why…" Then I'd try to move the conversation to text or to a phone call as fast as possible, because many of the apps did not like to have matchmakers poaching their users. I kept getting kicked off.
My clients knew their match's first initial and a description of what they were wearing. Beyond that, they were given no information. That allowed them to go into the date as open-minded as possible. They didn't even have each other's phone numbers — that would make it too easy to Google. When any one of my clients had a date, I'd be on-call in case they couldn't find their date at the place they were supposed to meet, or they needed a pep talk, or the date ended and they wanted to call and talk about it. We called it "date sitting." Our company defined a successful match as a successful first date, so the kind of first date where you'd want to see that person again. Our company-wide success rate was 50 percent, which was pretty high.
My clients were all using the same package, which was $600 a month for two dates, and I was paid on commission. I received $120 for every date I set up. If my client got sick or had to cancel, I wouldn't get paid. One month, the company had a little competition: the matchmaker who set up the most dates that month would receive a free pair of Manolos. I didn't win, but I got close.
I kind of thought of matchmaking as summer camp: I got to do this one weird, crazy thing for a summer and just have the experience. But I got into it because I loved dating; I thought I was good at it, and I really enjoyed it, so bringing that energy into my work was really helpful. Half the battle of dating is just keeping an open mind and being really enthusiastic, energetic, and passionate about the process. I totally had that.
But I also had no experience and no perspective. I was 21, and I was trying to get my clients who were in their 30s, 40s, and 50s married, and I didn't know how to do that. At best, I had one on-again off-again relationship from college, and that was the most serious experience I'd had with love. And then to try to help other people find that when I didn't have that myself was really unusual.
A good matchmaker is someone who is really empathetic and creative. Are you intuitive? Are you good with people? Are you naturally good at reading people? Being an extrovert helps. I'm an introvert, and I was really exhausted all the time, just with the emotional energy of having these really intimate, personal, important conversations with strangers. To call up a person or to meet them for drinks and then say, "Tell me about your last heartbreak," "Tell me about what you like in the bedroom," "Tell me about your hopes and fears and anxieties about dating," and then do that ten times a day is a lot. I was also fresh off a brutal breakup when I was going into this job, which made it really difficult. On the one hand, I had so much enthusiasm and energy and positivity about dating, but in that specific moment, I was upset and feeling lost and overwhelmed. And it's really hard to convince people that dating is fun when you are personally kind of miserable.
I did matchmaking for seven months. Half that time was over the summer full-time, and half that time was fall semester of my senior year, after which I left matchmaking to go intern at Cosmopolitan.
I really missed being in the editorial world, and I really wanted to be in media after graduation, so I thought I should segue back into that. I loved matchmaking and it was so exhilarating, but I know it wasn't something that was going to be my life path. It's a really tough job. Think about how much effort you put into your own dating life — and then multiply that by, like, 50 clients who are paying you to get it right.