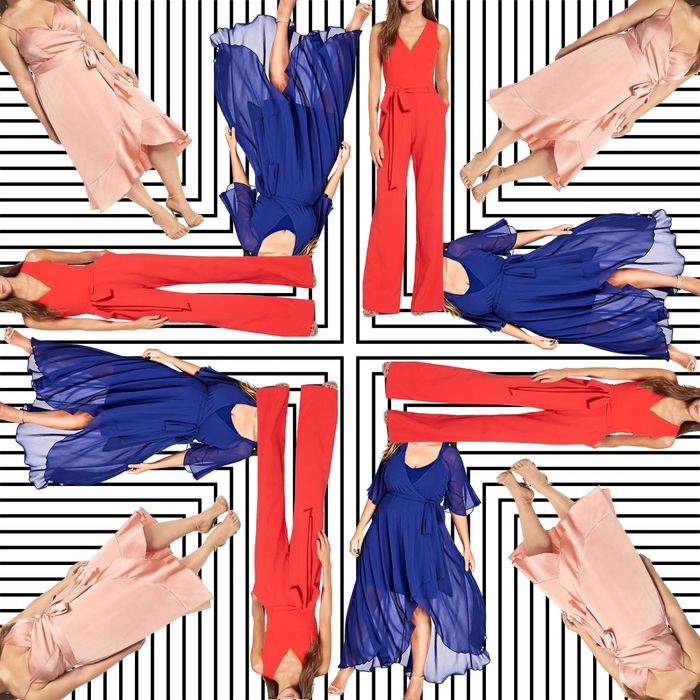 When it comes to bridal showers, there are really only two rules about what to wear: Consider the bride-to-be's taste, and do not, under any circumstances, wear white. For the sake of your bank account, though, you might want to add a third rule: Don't buy something you're never going to wear again. The easiest way to make all of these rules work together is to buy something that comes in a simple silhouette but a bright color. Scroll down for 14 shower-appropriate outfits that you'll be able to recycle, from romantic dresses to easy jumpsuits.
The perfect dress to wear to a bridal brunch and out for drinks later since it's both fun and flirty.
Available sizes 12–28.
A jumpsuit that's dressy enough for a bridal shower but comfortable enough for kicking around on the weekend? Yes please.
Available sizes 0–12.
If you're helping prep for the event, try a wrap dress — the shape is relaxed enough that you won't mind wearing it while you're running around.
Available sizes 12–22.
A Mini Dress in Grass Green
Since this is such a dramatic color, all you need is nude shoes and a bag and you're done.
Available sizes 00–14.
So sleek and elevated, and only $76.
Available sizes 0–14.
A Trendy Mint Green Option
The color feels very summer 2018, and the length means you can wear it to work, too.
Available sizes 0–14.
A Basic Jumpsuit That Isn't Black
Jumpsuits are perfect if you want to look like you made an effort without actually, you know, making an effort. The orange shade here is festive, but the silhouette is really easy to wear.
Available sizes 0–10.
If You're Not Sure How Dressy to Be
Get around a confusing dress code with a jumpsuit that combines romantic ruffles with a more casual cropped leg.
Available sizes xxsmall–large.
The flowy, sheer top layer feels perfect for summer, and the wrap style means it can be adjusted for larger cup sizes.
Available sizes xsmall–xxlarge.
Praire inspired, breezy, and has great reviews online because it's so comfortable.
Available sizes 0–10.
If you're into gingham, this one isn't so basic, with the mix of of two gingham patterns to make it more shower-appropriate.
Available sizes 0x–3x.
A Melodramatic Purple Option
A Wrap Dress That's the Opposite of Basic
The soft pink and skinny straps make this wrap dress feel infinitely prettier than the black one you wear to work when you're running late. Pair it with stilettos and you'll get plenty of compliments.
Available sizes 14–24.
If you buy something through our links, New York may earn an affiliate commission.