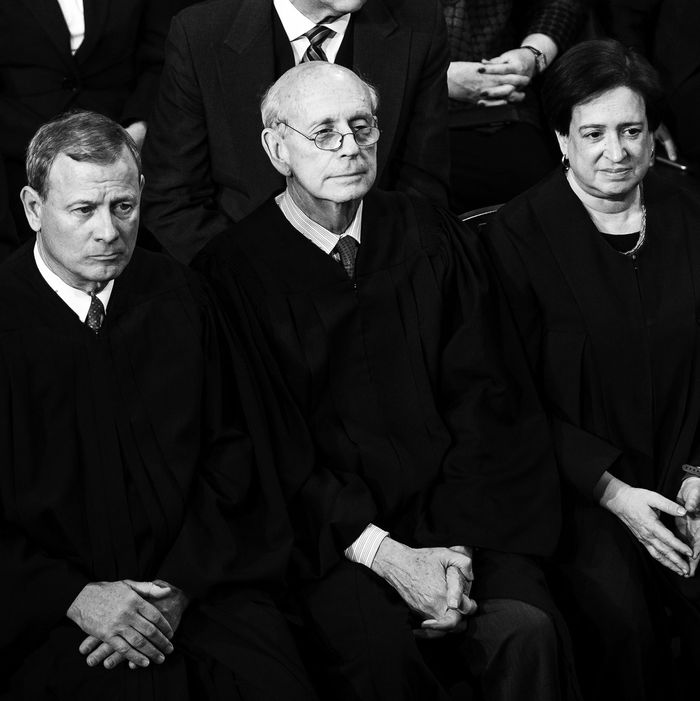 Photo: Al Drago/Bloomberg via Getty Images
On Monday night, President Trump announced D.C. Circuit Court of Appeals Judge Brett Kavanaugh as his nominee to replace Justice Anthony Kennedy on the Supreme Court. While he was not the most extreme name on Trump's judicial shortlist, many progressive groups have expressed concerns over what Kavanaugh's appointment to the bench could mean for the civil, reproductive, and immigration rights of millions of Americans.
Kavanaugh garnered headlines last year after he ruled to deny an undocumented teen the right to have an abortion in the detention facility where she was being held, because he believed that would make the government "complicit" in a morally objectionable act. He has also been an outspoken skeptic of EPA regulations, CNN reports, and wrote in 2009 that Congress should consider a law that would exempt a sitting president from criminal prosecution and investigation. In other words, Kavanaugh's appointment is especially great news to one (1) U.S. citizen currently sitting in the Oval Office.
In a statement on their website on Monday, the Southern Poverty Law Center wrote that if Kavanaugh is confirmed, "we'll no longer be able to rely on the federal judiciary to protect the rights of the most vulnerable people in this country." Reproductive rights groups also denounced the president's nomination, with Planned Parenthood's executive vice-president Dawn Laguens writing in a statement, "There's no way to sugarcoat it: with this nomination, the constitutional right to access safe, legal abortion in this country is on the line. We already know how Brett Kavanaugh would rule on Roe v. Wade, because the president told us so."
Kavanaugh's nomination poses a serious threat to many people's rights, but there are some things you can do to try to halt his appointment.
Contact your senator.
Supreme Court justices require Senate confirmation, so call your senator and tell them not to approve Kavanaugh. And if you're tired of calling the Capitol switchboard to no avail, you can try calling your senators' offices directly, using the numbers listed here. As a Capitol Hill staffer told Revelist last year, "The way that we know that we have to respond to a particular issue is if someone in our district office says, 'Hey, all of us are on the phone with constituents.' That's how you know that it's a problem: because it's impeding them doing the work they have to do that day."
And also reach out to these six senators.
The Southern Poverty Law Center has identified six senators who could potentially shift the Senate's decision on Kavanaugh, including Republicans with pro-choice leanings, and vulnerable Democrats who might be tempted to vote conservatively. Maine Republican Susan Collins, for example, said in an interview on ABC last week that a judicial nominee who intended to overturn Roe v. Wade "would not be acceptable," but it's unclear whether she will stick to this claim. And Senator Joe Donnelly from Indiana, who faces a tough reelection battle in November against conservative businessman Mike Braun, was one of only three Democrats to vote for a 20-week abortion ban back in January.
Find a way to help liberal Senate candidates.
And because the Senate confirms Supreme Court nominees, the most effective way to prevent disastrous judges from being appointed is to support and vote for senators who won't confirm them.
The website Road to 2018 has identified 12 especially vulnerable Senate Democrats up for reelection in 2018, including Tammy Baldwin of Wisconsin, Sherrod Brown of Ohio, and Claire McCaskill of Missouri.
Celeste Pewter, a former political staffer, suggested on Twitter that those concerned about the future of the Supreme Court find a way to support one or all of these candidates in their reelection efforts.
This post has been updated to reflect President Trump's nomination of Judge Brett Kavanaugh for the Supreme Court.