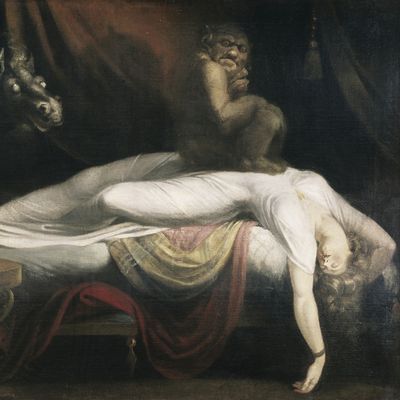 Photo: SuperStock/Getty Images
Last week, I had a variation on the following dream three nights in a row (apologies in advance for describing a dream, but this is relevant): I am at home when my phone buzzes urgently. I check it to find a Slack message from my boss, who is upset with me, because a story I've written contains glaring factual inaccuracies. And a spelling error, right in the headline.
I have three categories of stress dream: high school (which I have not been in for 13 years), relationship, and work. They're all boring, and deeply predictable, and — for the most part — easy to let go of upon waking. For instance, after dreaming that I have shown up late (and topless) for a class I'm meant to have attended for several months prior, I can remind myself that school is a thing of the past. That never happened and never will. Relationship dreams are slightly more challenging, and I've been guilty at feeling angry with my girlfriend for something she only did in a dream, but still, these are usually too surreal, and too random, to hold onto. My work stress dreams, by contrast, are repetitive, and a little too realistic for my liking. Inevitably, I wake up sweaty and panicked. Sometimes, I'll reread everything I posted the last few days to triple check for mistakes, even knowing everything I publish has been copyedited thoroughly.
Since these dreams are not particularly useful to me, I would like them to stop, please. So I got in touch with Alice Robb, author of the forthcoming book Why We Dream: The Transformative Power of Our Nightly Journey, to ask for some advice.
First off, she tells me, dreaming about one's daily life is the norm, and sort of hard to avoid. "We tend to dream about the stuff we do/think about/worry about during the day," says Robb. "People think of dreams as bizarre, but most of them are actually set in real places that we know (like the office) and resemble our daily lives." While I might prefer the dreams in which I am a dragon-slaying heroine gifted with the power of flight, that does not resemble my real life, and so I don't have them often. Even as a semi-regular lucid dreamer who can, to a certain degree, make little decisions as to what I do in my dreams, I can't seem to figure out how to change my setting, which, more often than not, is work. And if I try too hard to override those preferred themes, says Robb, I might actually make my dreams worse.
"There's evidence suggesting that people who try to suppress unpleasant thoughts have more dreams about upsetting memories," says Robb. "In one experiment, people dreamed about a specific person more often if they were told not to think about that person before bed than if they were told to concentrate on that person." This, she tells me, is called the dream rebound effect, and the same general principle applies when you're awake, too — suppressing a thought essentially ensures you'll keep having it.
Unfortunately, the only real way to stop yourself from having the same work dream over and over again is to address "whatever stressful thing is triggering them," says Robb. In my case, it might just be a matter of adjusting to a new job, or it could be a manifestation of guilt over having had to fix an error in a past story. I'm not sure. So what do you do if you don't know what exactly that stress trigger is, or it's something you can't easily address? "If you can't resolve the underlying issue, you can try to change how you feel about it, maybe with the help of a therapist," says Robb. Making an appointment as we speak!!