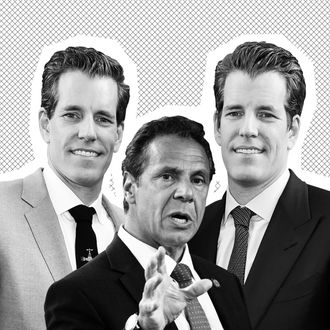 Winklevoss No. 1, Andrew Cuomo, Winklevoss No. 2.
Photo: Getty Images
While Cynthia Nixon has had plenty of high-profile celebrity support in her bid to become New York's next governor, Andrew Cuomo has mostly been relying on the backing of, well, the state Democratic Party machine. Until now! Because, as "Page Six" reports, he also has two enormous, identical men in his corner: the Winklevoss twins.
The bitcoin billionaires — portrayed by noted Tall Drink of Water Armie Hammer in 2010's The Social Network — are reportedly on the host committee for his upcoming fundraiser at the Surf Lodge in Montauk.
Could this alliance be rooted in the fact that the New York Department of Financial Services cleared the way for them to trade a certain kind of cryptocurrency back in 2016, with Cuomo saying, "this action continues New York's long tradition of pioneering new innovations and emerging industries?" Maybe! Either way, Saturday's party is shaping up to be incredibly cursed.