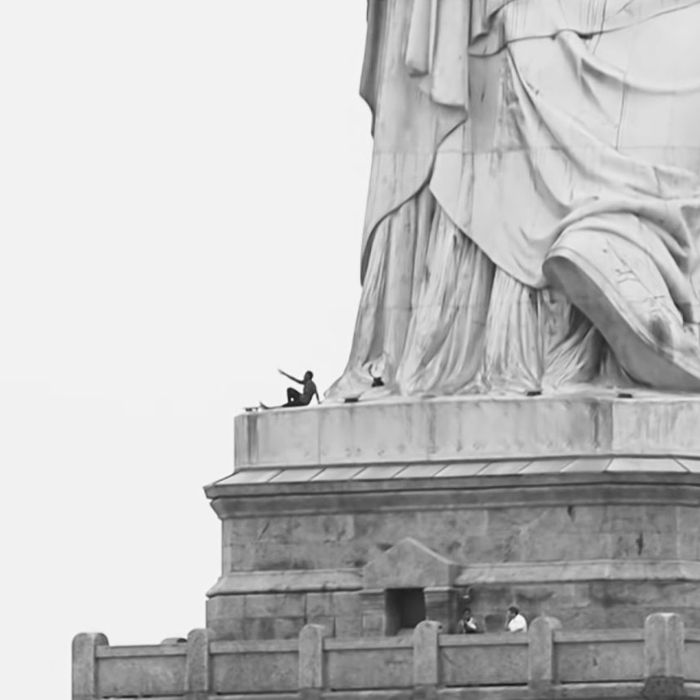 Therese Patricia Okoumou at the Statue of Liberty.
On Wednesday, the Fourth of July, a woman climbed up the robes of the Statue of Liberty to protest the Trump administration's cruel immigration policies — and refused to come down until after a three-hour standoff with police.
The woman, who was identified as 44-year-old Therese Patricia Okoumou, arrived on Liberty Island that day as part of a group of protesters from the organization Rise and Resist. The group unfurled a banner that read "Abolish ICE!" at the foot of the Statue of Liberty, and shortly afterward, seven of the protesters were arrested. Around 3 p.m., Okoumou began to scale the monument, saying she wouldn't come down until "all the children are released," CNN reports.
Martin Joseph Quinn, a Rise and Resist organizer, told CNN that while Okoumou is involved in the group, they did not know she planned on climbing that day. "She climbed without our knowledge. It was not part of our action," Quinn said.
According to CNN, police attempted to talk Okoumou down for several hours as she refused to leave. During that time, Okoumou crossed the base of the statue, sitting in the folds of the dress and under its sandal. In total, 16 officers assisted in the rescue efforts, until eventually, law enforcement officials with ropes and climbing gear were able to reach her.
"At first she was being a little combative, then she was willing to cooperate with us. She actually apologized to us for having to go up and get her," NYPD officer Brian Glacken said in a Wednesday news conference, per CNN. The officers then put a harness and ropes on her, and she crossed to the other side of the Statue of Liberty to climb down a ladder.
National Park Service spokesman Jerry Willis told CNN that Okoumou was in federal custody as of Wednesday evening, with police recommending charges of trespassing, disorderly conduct, and interfering with government functions to the U.S. Attorney for the Southern District of New York. Rise and Resist said in a statement that it is "working to secure the best legal representation" for her.