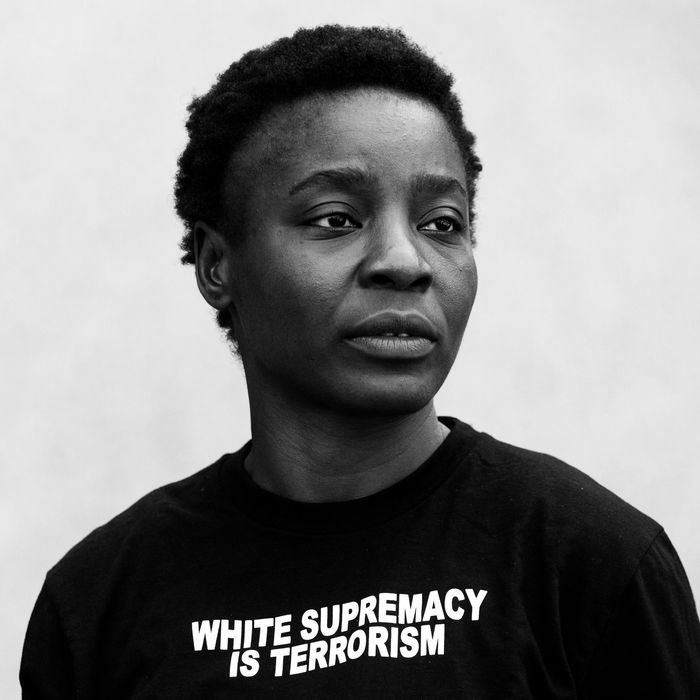 Therese Patricia Okoumou.
Photo: Mary Altaffer/AP/REX/Shutterstock
In a Manhattan federal court on Thursday, Therese Patricia Okoumou, the 44-year-old woman who climbed the Statue of Liberty on the Fourth of July to protest President Trump's cruel "zero tolerance" immigration policy, pleaded not guilty to trespassing and other charges brought against her, the New York Daily News reports. After being released on her own recognizance, Okoumou, who wore a T-shirt that read "White Supremacy Is Terrorism," addressed reporters.
"Trump has wrecked this country apart. It is depressing, it is outrageous," she said. "I can say a lot of things about this monster, but I will stop at this: his draconian zero-tolerance policy on immigration has to go. In a democracy, we do not put children in cages. Period."
Okoumou was arrested on Wednesday, after a three-hour standoff with police. She arrived on Liberty Island that afternoon as part of the organization Rise and Resist, which hung up a banner that read "Abolish ICE." At around 3 p.m., she climbed up to the statue's feet, and declared that she would stay there until "all the children are released," CNN reported. Eventually, police climbed up, put her in harnesses, and pulled her down.
"The defendant staged a dangerous stunt that alarmed the public and endangered her own life and the lives of the NYPD officers who responded to the scene," U.S. Attorney Geoffrey Berman reportedly said in the courtroom on Thursday.
When Okoumou later entered her not guilty plea, supporters clapped for her and shouted, "We love you!"