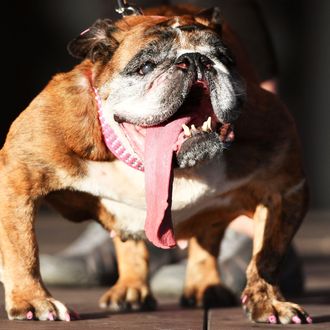 Zsa Zsa.
Photo: JOSH EDELSON/AFP/Getty Images
Mere weeks after being crowned the ugliest dog in all the land, 9-year-old Zsa Zsa has passed away in the comfort of her home.
The English bulldog, who was obviously named after actress Zsa Zsa Gabor, didn't have an easy life by any standards. She spent more than half of her life in a puppy mill in Missouri, where she resided for five years until the kind souls at Underdog Rescue rescued her. From there, Zsa Zsa was listed on PetFinder.com, through which she was discovered by her adoptive mother, Megan Brainard.
While Brainard and her husband are still "processing" Zsa Zsa's death, she told Today that the loss is "devastating." (It was early Tuesday morning that Brainard found her dog, who died in her sleep.)
"I'm still in shock," she told Today. "It's kind of like when she won [the World's Ugliest Dog contest]. It's been two weeks and I still don't believe it. It's probably going to be the same with her passing."
While Zsa Zsa was best known for being unsightly, to those who knew her best, her extraordinarily long tongue and pink toenails were beautiful.
"We take millions of pictures in my family," Brainard told Today. "So now we have her face everywhere to remind us of her."