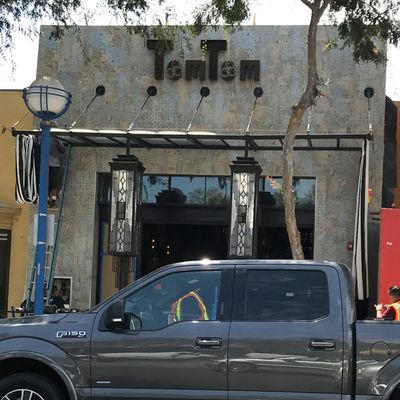 Tom Tom
Photo: Instagram/JMK
Incredible. As Anne Hathaway said when she won a best supporting actress Academy Award in 2013: "It came true." Tom Tom, the highly anticipated bar from the two Toms from Bravo's perfect bartender reality drama Vanderpump Rules, seems to finally exist in reality, able — at least for one night — to hold a small crowd of craft cocktail fans in its narrow, bespoke-steampunk-meets-regular-Lisa Vanderpump-large-flowers-and-chandeliers-which-is-or-is-not-glamorous-depending-on-your-taste corridor.
The bar opened its doors last night for DailyMail.com and DailyMailTV's summer party, and also for Jax Taylor's birthday. Happy birthday, Jax. The event, attended by Blac Chyna, Spencer and Heidi Pratt, and Rachel McCord, was documented across the cast's Instagram stories, but oddly it has not yet been committed to a satisfying extent on their timelines. (It is only, and barely, on Brittany's.) It is on a few other timelines, however, so let's see:
And here, from an interview on the step-and-repeat, is Tom Sandoval talking about "elevated bar food" and "share plates" as only Tom Sandoval can:
It hasn't been announced yet when the bar will open its doors to the public, and tomtombar.com — a URL I guessed, leading to a very good website that I highly suggest you visit — does not have any information regarding an opening date, however it does link to an article that I wrote (on the text "Apr 2018"), which I appreciate.
I love you, Tom Tom!