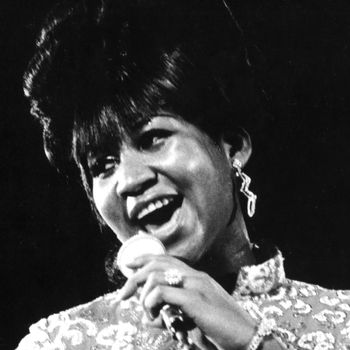 Aretha Franklin.
Photo: Michael Ochs Archives/Getty Images
Aretha Franklin was never one to mince her words, and her appetite for bullshit was nonexistent. She was a woman who knew her high worth, and when she felt as though she was not receiving the respect that she deserved, she demanded it. As The New Yorker's Amanda Petrusich put it, Franklin went through her life "tough and self-assured, confident in both her capacity and her worth, thus obliterating the terrible, pervasive presumption that a woman can't be tender and oh-my-goodness mighty at the same time."
Below, eight times that Franklin embodied this sort of formidable grace and reminded everyone just who she was — the one and only Queen.
How she kept her stacks of $100 bills
In 2016, New Yorker editor David Remnick observed that Franklin kept stacks of $100 bills next to her makeup before a performance in Ontario. "She collects on the spot or she does not sing," Remnick wrote, adding that she then will put the cash in her purse and hand it off to her security team, or even bring it onstage with her. According to Tavis Smiley, one of her close friends, she picked up this habit because she saw many people in her time "get ripped off."
"There is the sense in her very often that people are out to harm you," he told The New Yorker. "And she won't have it. You are not going to disrespect her."
When she responded to a columnist's comment that she's "too bosomy"
After New York Post columnist Liz Smith tried to argue in 1993 that Franklin "must know she's too bosomy to wear such clothing," the Queen of Soul wrote into the newspaper to share her thoughts on Smith's credentials.
"How dare you be so presumptuous at to presume you could know my attitudes with respect to anything other than music," she wrote. "Obviously I have enough of what it takes to wear a bustier and I haven't had any complaints, I'm sure if you could you would. When you get to be a noted and respected fashion editor please let us all know."
That time she called Dionne Warwick "libelous" in a fax
After Warwick incorrectly referred to Franklin as Whitney Houston's godmother at her funeral, she sent a fax to the Associated Press clarifying that she was, in fact, not — because she was too busy to be a godmother to anyone! — and accusing Warwick of libel.
"Franklin said she first met Houston when Houston was a child — and she was far too busy to be anyone's godmother," the AP reported at the time. What's more: Franklin didn't set the record straight until five years after the "libel" occurred; she apparently decided to send the fax after having a bitter interaction with Warwick at the Tribeca Film Festival in 2017. (Franklin also said she didn't feel it was appropriate to correct the record so soon after the funeral.)
The way she dropped her mink coat on stage
At the end of 2015, Franklin sang her 1967 hit "(You Make Me Feel Like) A Natural Woman" at the Kennedy Center in Washington, D.C. It was a performance that left then-president Barack Obama in tears. While the crowd was clearly moved, Franklin too was "feeling it" — so much that she dropped her massive mink coat to the floor while on stage.
"It's been a long time since I've done Kennedy Center, and I wanted to have a peerless performance," she told Vogue afterward. "Once I determined that the air was all right while I was singing, I said, 'Let's get out of this coat! I'm feeling it. Let's go!'"
When she expertly sidestepped a question about Taylor Swift's musical talent
Franklin praised Adele, Alicia Keys, and Whitney Houston in a 2014 interview with The Wall Street Journal, but when the host asked her about Taylor Swift, all she said to say was, "great gowns, beautiful gowns."
… and then had nothing to say about Nicki Minaj
"Hmm…I'm gonna pass on that one," she said.
When she demanded to be recognized as the Queen of Soul
When Beyoncé called Tina Turner "the queen" at the 2008 Grammys, Franklin — the Queen of Soul — released a statement voicing her disapproval.
"I am not sure of whose toes I may have stepped on or whose ego I may have bruised between the Grammy writers and Beyoncé," Franklin said in the statement, issued by her publicist. "However, I dismissed it as a cheap shot for controversy."
Because no matter what, she always knew she was the one and only Queen