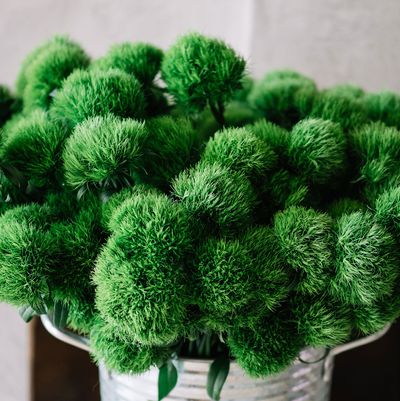 Photo: AnastasiaNess/Shutterstock
Welcome to Summer Blooms: The Cut's guide to floral arrangements.
It can be nice sometimes to stop at the bodega or grocery store after work and pick up a bunch of the weirdest flowers you see. They tend to be flowers meant for arranging, with a light touch, into bouquets — the little yellow ones, the giant purple ball ones, the ones that look like brains, any of the leafy ones — but flower-arranging rules were meant to be broken, and life is meant to be lived wildly. So why not just get a bunch of filler flowers or some statement flowers and put them in a vase all by themselves? I dare you, and as you know, you mustn't renege on a flower-related dare.
(It's true.)
My favorite flower to pluck out of the sidelines and place center stage is the green Dianthus, also known as "Green Ball (Sweet William)," a flower name that reminds me of a song title, specifically of the song title "Rosalita (Come Out Tonight)." They are whimsical green puffs, reminiscent of something you'd see in a Dr. Seuss illustration or during some sort of drug-enabled experience. I love them because they are very cute and extremely silly. Little green puff balls, ideal for creating a sweet, light atmosphere in order to relieve a bit of tension and have a bit of fun. It's very nice that they even exist, and we are lucky to be able to pick them up on the way home from work.
A bonus about the "Green Ball (Sweet William)" is that it tends to last for a while — at least a week and a half or so. (It's always hard to tell what the life span of any particular bodega or grocery-store flower will be, but you can trust me that it is at least usually true.) If you mix them in with other bodega flowers, it's likely that the other flowers will meet their untimely end before the balls, leaving the balls standing there, sad, among their deceased friends. You don't want that. Why not just limit your bouquet to a whole bunch of the balls?
Next time you're buying flowers, try finding what you're drawn to and overdo it with that particular flower. It's not a plan that is suitable every time, but it is a plan that is suitable every now and then. And why not start with these balls?