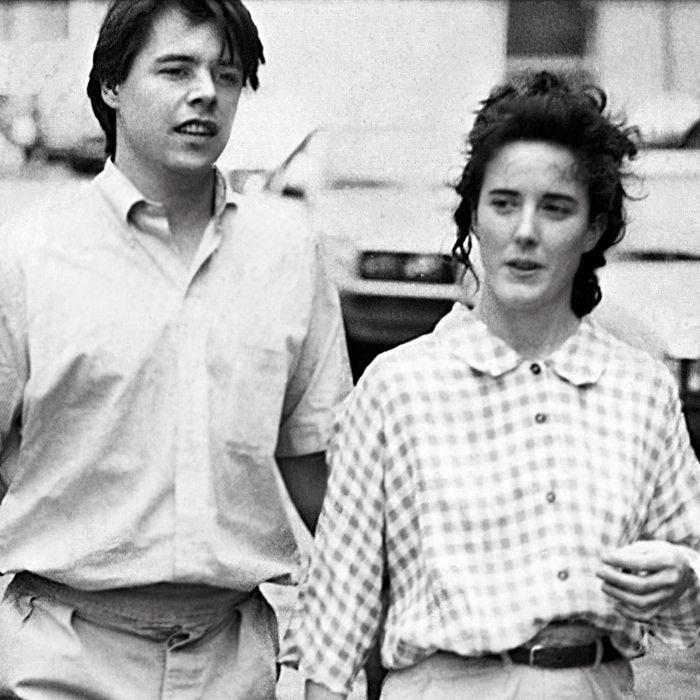 Andy and Kate Spade in Soho, c. 1987.
Photo: Tiff Pemberston
"It's such a happy place to come," says Elyce Arons, in a preppy-bright striped blouse, a tidy clatter of beaded bracelets jangling on her wrist. We're in the double-height offices of the two-year-old handbag-and-shoe brand Frances Valentine — she's the company's CEO and one of its partners — overlooking Bryant Park. Her partner in the company, Katy Brosnahan, known to the world as Kate Spade, took her own life on June 5. They'd known each other since they were 18-year-old college freshmen, shared clothes and dreams and triumphs, started and sold their company Kate Spade New York together, then both took a break to raise their families before deciding to start another company — this one, as much as anything, because they wanted to make the sorts of shoes and bags they just couldn't find when they weren't making them themselves.
Spade's death was incomprehensible on a personal level for Arons. "Every day, I wake up, it's still shocking," she says. As she grieved the loss of her friend, she was also left with the question of how to honor Spade's legacy in the business they started together. The tasteful room where we're standing is haunted by the same joy that infused all of Spade's creations and the memories of the years they shared as friends and collaborators. A many-armed David Weeks light fixture fills the headspace above us, and a Georg Baselitz painting hangs over the vintage mantelpiece. "It took us a year, believe it or not, to build the space out," she says, smiling, perhaps at the idea that they thought they had all the time in the world. "Andy is incredibly particular about things being just so."
Andy is Andy Spade, the restlessly creative branding savant who, in 1993, started the now-iconic handbag line Kate Spade with his college girlfriend who would eventually become his wife, and two friends, Arons and Pamela Bell. Kate was "Katy" to her friends and family. "She was always very proud of that, 'Katy,' with a y," says Arons. She and Katy had met at the University of Kansas, before transferring together to Arizona State University, both pledging sororities, both majoring in journalism, and both, as it happened, marrying men named Andy. The office music we're hearing, Arons tells me, was one of Katy's mixes: Nick Cave, Fleetwood Mac, Leonard Cohen, Bob Dylan.
"We have a lot of pictures from college of all three of us," Arons remembers. "And they could be wearing the same thing today." Their knowing preppy exactitude was always spot-on, a riff on some more settled age. Katy had an editor's eye — before starting Kate Spade, she was an accessories editor at Mademoiselle — and that ability, maddening to those who don't have it, to walk into the jumble of a vintage shop and come out with just the right old thing.
Kate Spade, the brand, began scrappy, self-funded — Andy didn't even quit his ad-agency job for the first couple of years. Arons remembers driving the bags up to Barneys in her own car, trying to make the delivery deadline. But it worked — a Kate Spade bag, winkingly retro and unabashedly post-power-suit feminine, became a totem of "You're gonna make it after all!" life in the city for many women. Eventually, the founders cashed out for $93 million and left the company by 2007. Andy started Partners & Spade, a branding agency. Katy and Arons took a decade off to be with their kids.
"I didn't know what to do with myself, honestly," Arons admits. "I would run up to Katy's house after drop-off at the kids' school. We'd run around the reservoir for two hours, and I'd run home because I'd never not worked in my life." She laughs, a self-conscious tinkle. "It took me a while to adjust."
Frances Valentine is pricier than Kate Spade, but the impetus was the same: "I missed not being able to wear things that I love," she says. They opened shop in 2016, but the market had shifted. Now it was dominated by digital retailing, and big outlets had become risk averse. Nordstrom, for example, sells their shoes and bags online but hasn't approved them to be stocked in its stores yet. "Retail is having problems," Arons says, "and filling up stores with stuff people aren't sure about yet is something they're trying to avoid."
She looks out over the samples of shoes trimmed in mink ("I know, I know"), some, including the ones she's wearing, with multifaceted heels. ("Our signature geodesic-dome heel. We have a patent on it.") Nearby is a bag with a tiki-like fringe ("It's a hula dancer," she explains) and another like a little potbelly basket. "We were sitting around one day and Katy said, 'Wouldn't it be great to do a round bag?' And someone said, 'Oh, like the honey pot that Winnie-the-Pooh carries.' There was a round vase sitting over here, and we thought that was the right size. So we measured it."
It sounded like a delightfully casual creative process. Katy's customers and fans had certain understandably upbeat ideas about her based on the cheerfulness of her designs that, as it turns out, was only partly, or perhaps only publicly, true. In private, of course, Katy was not a "brand." After she died, her humanness seemed to take some people by surprise, how she had suffered from depression, that she and Andy were living apart.
A color printout of the fall ad campaign is on the conference table. "We have such an extensive library of all the things she's created and designed," Arons says. "Everything that Katy has always done is timeless. These shoes" — she points to a pair she has on — "could be ten years ago or ten years from now. You can't put a date on it." She hands me a postcard of Katy in a 1960s dress next to a VW bug. It was taken in Mexico. The dress was Arons's mother's, and Katy had taken it from her closet and hemmed it. Arons shakes her head as if to say, That was Katy. It looks great, of course.
"I think it will work in the same way it always has," she says of the company after Katy. "We have so much of Katy's voice here already. And Andy is still very involved in all the design and will continue to be." She breaks off. "We'll miss her enormously, of course, but our plan is to do everything we can to make the business the greatest we can. I think that would make her happy. That is our goal."
The day I visit, Andy isn't in the offices. He and Bea, his 13-year-old daughter with Katy, have temporarily fled the city. That morning, he'd posted on his Instagram for the first time since his wife's death. It was a photo of a scraggly desert pine tree at dusk, defiantly wrapped in Christmas lights. "She was born Christmas Eve, 1962. She loved the Midwest, the desert, and the city," he wrote underneath. He and his daughter had decorated the tree to remind them of her. "Bea and I cut a star out of the cardboard box the lights came on and wrapped it in Reynolds wrap (TM) like we do every Christmas."
As I left, Leonard Cohen is singing "Suzanne," another song Katy picked: "And you want to travel with her / And you want to travel blind …"