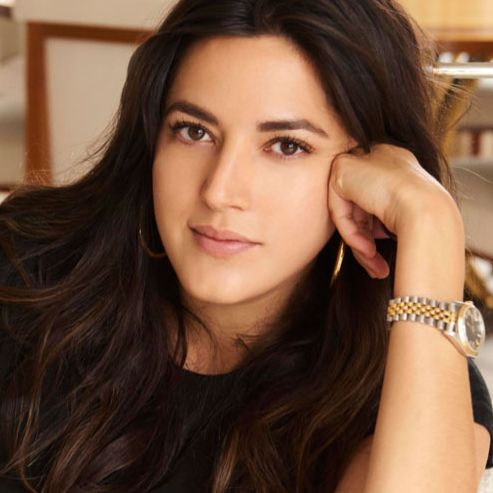 Alison Chemla.
Photo: Courtesy Alison Chemla.
Jewelry designer Alison Chemla got her start turning emojis into gold. In 2012, she launched her now-signature "Emoticore" charm collection under the name Alison Lou, and since then, her brand's cheeky designs have garnered the attention of celebrities ranging from Blake Lively to Beyoncé.
This summer, Alison Lou launched a more affordable collection in collaboration with J.Crew, and the brand's Loucite hoop earrings were ubiquitous this season, worn by just about every celebrity (including virtual ones like Lil Miquela.) Chemla also designed a summer collection called Mamma Mia that was inspired by her recent trip to Italy and featured earrings shaped like tomatoes, basil, and penne pasta.
Below, Chemla shares advice on layering charms and where to eat Italian food in her hometown of New York City.
How do you thank people for a gift?
A handwritten note on personalized stationery.
What's your dream vacation?
I tried surfing this last weekend and I caught the bug, so now all I can think of is trying surfing somewhere I could actually learn. Maybe Hawaii?
What's a good book on your coffee table right now?
The Jewels by JAR coffee-table book. I bought it at his retrospective at the MET. Whenever I need a boost of inspiration, I go through it.
Favorite piece of furniture in your apartment/office?
I had a custom bed made modeled off the classic Donald Judd bed. His beds were made for full and queen-size mattresses, so I took their dimensions and made it proportional for a king-size bed. Not only are they good-looking, but they also work as additional apartment storage.
What's the last show you binge-watched?
Fauda on Netflix.
What's your go-to dinner-party meal?
Big salad, roast chicken, and vegetables (Ina Garten's recipe). And if I can, I'll have a Carissa's Bakery cake for dessert!
What's your secret to hosting a successful event?
Enjoy yourself! You're a guest at the party too. When there's a stressed host, it creates unhappy guests.
What's a piece of jewelry you always wear?
A diamond tennis bracelet that my sisters had my office make for my last birthday. I haven't taken it off, and I'm not sure that it even comes off at this point. It's a classic piece of jewelry to have in your collection and I absolutely love it. Not to mention it holds meaning, which to me is the most important part.
What's a new piece you've added to your collection this summer?
LOUcite (in every color), and pieces from the collaboration I recently did with J.Crew. All of those pieces are fashion jewelry, so it's a nice departure from constantly worrying about my more precious pieces. (I may or may not be known to lose things). I can just throw a bunch of pieces in my bag and go!
Do you have any styling advice for jewelry?
When it comes to jewelry, I'm a maximalist. I say put on whatever makes you feel comfortable, but I'm generally in a minimum of 15 pieces — that's including my nine ear piercings!
What's your favorite …
Florist?
Missi Flowers.
Lipstick?
Charlotte Tilbury's "K.I.S.S.I.N.G." It's the best natural color.
Candle?
12.29 from A Dark Affair.
Scent?
For her by Narciso Rodriguez.
Sheets/bedding?
Hill House Home's Waverly Set.
Museum/gallery?
Rodin Museum in Paris.
Restaurant?
Bar Pitti.
Suitcase?
I've been using the weekender from Stoney Clover that I had customized with my initials in black on black.
Nail polish color?  
Currently I'm really into clear gel. I know it's boring, but it stays looking beautiful for weeks.
Summer escape?
Lazy Point Bay in the Hamptons.
If you buy something through our links, New York may earn an affiliate commission.