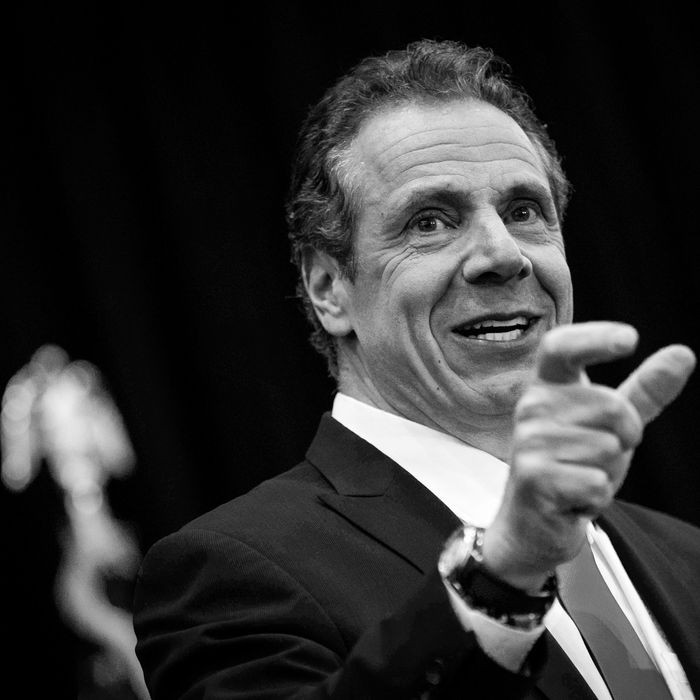 Andrew Cuomo.
Photo: Drew Angerer/Getty Images
After months of ignoring Cynthia Nixon's requests for a debate, New York governor Andrew Cuomo finally agreed on Monday. According to the New York Daily News, Cuomo agreed to debate Nixon on August 29 on CBS. The debate comes during a heated primary race for governor between Nixon and Cuomo.
The announcement was made by the chair of the state Democratic Party, Buffalo mayor Byron Brown. The debate will reportedly be one hour long and hosted on Long Island at Hofstra University. A source told the Daily News that the debate will be moderated by CBS's Maurice DuBois and Marcia Kramer.
A press release posted to Cynthia Nixon's website stated that "Cuomo has agreed to participate in a debate hosted by WCBS, with the format and all of the details negotiated in advance, then presented to our campaign on a take-it-or-leave-it basis."
"CBS management has acknowledged that the only way to get Governor Cuomo to show up is by giving him everything he wants. We weren't even given a seat at the table," read the statement.
"Cynthia will debate Governor Cuomo backwards and in high heels if she has to," the statement concluded, reiterating previous sentiments that Nixon is serious about her run for governor.
Nixon is one of many women in 2018 who have run Democratic primary campaigns to unseat an established incumbent. Other anti-Establishment Democratic candidates — such as Zephyr Teachout, Julia Salazar, and Alexandria Ocasio-Cortez — have pushed their opponents and members of Democratic leadership further left on certain topics. This will be Governor Cuomo's first one-on-one debate in 12 years.