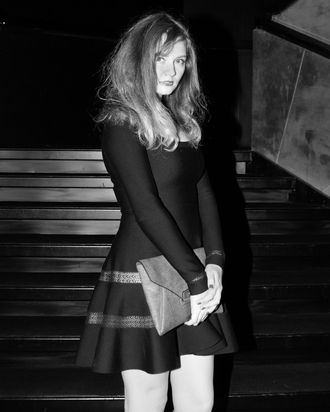 Anna Delvey.
Photo: Joe Schildhorn/BFA/REX/Shutterstock
The grifting life isn't for the faint-hearted, as evidenced by the case of Anna Delvey, who is facing 15 years in jail after allegedly tricking the world's partying elite out of hundreds of thousands of dollars by pretending to be a German heiress. According to the Daily Mail, Delvey (whose real name is Anna Sorokin) was indicted on grand larceny charges in New York Supreme Court on Tuesday.
Since October 2017, after Delvey's facade finally unraveled, she's been remanded without bail at Rikers Island. She and her lawyer attempted to make a plea deal for one to three years of imprisonment in early June, but Justice Diane Kiesel rejected the proposal on June 19, arguing that she saw "no remorse" in Delvey's eyes.
"She seems more concerned about who is going to play her in the movie than what she's done to the people she allegedly took advantage of," she added.
Therefore, Delvey's indictment this Tuesday wasn't much of a win for her, though her lawyer Todd Spodek did succeed in lifting the protective order that prevented her from seeing documents relevant to her case. In a statement to the Daily Mail, he stressed how imperative it is that he "be able to share any and all evidence in the case with Ms. Sorokin so that she can provide meaningful input into trial preparation."
Whatever happens next, Shondaland and Netflix are sure to make an incredible TV series out of this ongoing story.