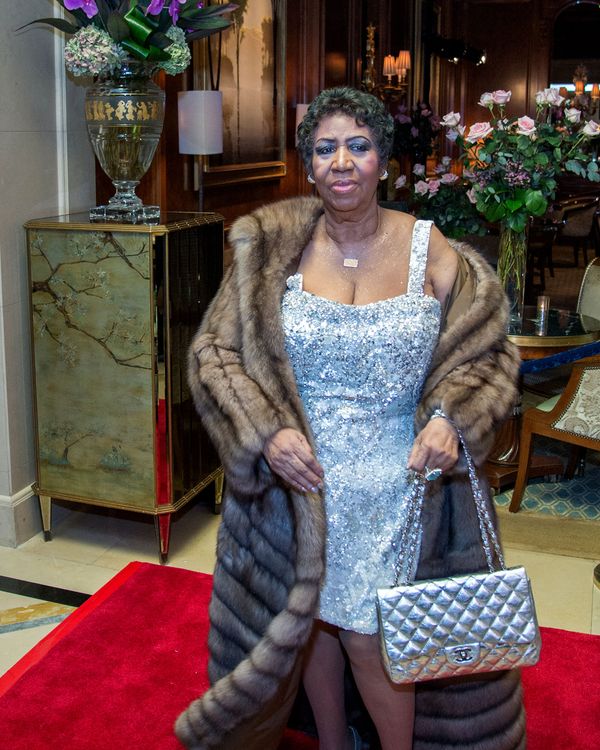 Aretha Franklin.
Photo: Mark Sagliocco/FilmMagic/Getty Images
When news broke of Aretha Franklin's passing on Thursday, the internet began its traditional mourning ritual. Instagram and Twitter were flooded with an outpouring of heartfelt memories, stylish photos, and instant-classic GIFs.
In addition to this video of the late Queen of Soul brushing a mink coat off her shoulders with a shrug, another GIF stood out to me. It's a quieter moment, in which Franklin sets down her purse before strutting onto the red carpet. She looks as though she ambled in off the street with all her stuff. Oh, an event? For me? And then pow! She hits us with that strut. "Aretha's dedication to her purse is the stuff of legend," writer R. Eric Thomas tweeted as one caption. Of course, Franklin's talents are stuff of legend, too, but her bags were inextricable to her person — she never let them out of her sight — and are therefore part of her legacy as well.
One could read Franklin's love of designer purses as a diva move, alongside her well-documented affection for feathers and fur. But that doesn't quite get at the full story. In a 2016 profile for The New Yorker, David Remnick visited Franklin backstage one night in Ontario. Although her purses were always designer — Chanel and Louis Vuitton were her favorites — it was their contents, not their branding, that was perhaps most valuable. Remnick reports:
On the counter in front of her, next to her makeup mirror and hairbrush, were small stacks of hundred-dollar bills. She collects on the spot or she does not sing. The cash goes into her handbag and the handbag either stays with her security team or goes out onstage and resides, within eyeshot, on the piano. 'It's the era she grew up in—she saw so many people, like Ray Charles and B. B. King, get ripped off,' a close friend, the television host and author Tavis Smiley, told me. 'There is the sense in her very often that people are out to harm you. And she won't have it. You are not going to disrespect her.'
Knowing this, it makes sense why Franklin would want to keep such a close eye on her handbags. Not only were they full of hard-earned cash, like your grandmother's mattress, but Franklin was also looking out for herself. Sure, she eventually became a million-dollar recording artist who could afford to lose a bag or two — and maybe even a paycheck — but she was no fool. She knew her worth, even if others might have tried to tell her otherwise.
The daughter of a gospel singer and a well-known pastor, Franklin was raised in the Baptist Church, which inspired both her music and her style. Handbags are just as integral to a church outfit as a glorious hat — of which Franklin also had many. As the Cut's resident church fashion expert, Lindsay Peoples Wagner told me, it's all about the "full look for Jesus." So, this could also explain why Franklin carried a designer purse everywhere; she always looked her Sunday best. And then some.
The style tenets of the black church also align with its more general message of resilience — of looking and being your best self when others want to bring you down. President Obama wrote to Remnick that, like African-American spirituals, Franklin's music embodied "the way that hardship and sorrow were transformed into something full of beauty and vitality and hope." On some level, Franklin's handbags seemed to encapsulate this sentiment as well.
Nothing could ever detract from Franklin's music, but the things she carried were deliberately placed in the background for everyone to see. Franklin's handbags arguably served as a subtle symbol of African-American oppression — that, despite how much she gave to the world, she still knew she might be slighted. But they were also a symbol of her transcendence. She owned those designer handbags, and their contents, proudly. She kept them safe. And she would have you know it, too.