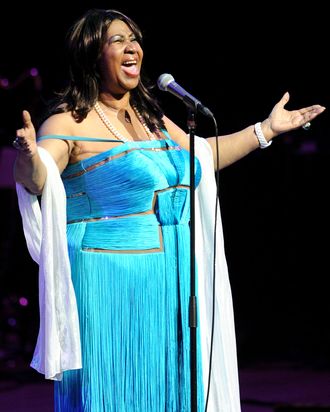 Aretha Franklin.
Photo: Jag Gundu/Getty Images
Ahead of her funeral on Friday, legendary soul singer Aretha Franklin, who died on August 16 at the age of 76, was honored in a three-day viewing at the Charles H. Wright Museum of African American History and New Bethel Baptist Church in Detroit. On the first day of the viewing, where fans were allowed to pay their respects to the Queen of Soul, Franklin was dressed in all red — stilettos and nails included. The dress recalled the outfits she wore onstage and was "something she would have selected for herself," Franklin's niece Sabrina Owens told the Associated Press.
Sometime in the middle of Tuesday night, Franklin underwent an outfit change, and was switched into a pastel-blue dress and open-toed silver heels; on Wednesday night, she was changed yet again.
Speaking of the different ensembles in an interview with the Detroit Free Press, Linda Swanson of the Swanson Funeral Home said they were simply "natural changes in wardrobe that a queen would make."
On Wednesday, Delana Kidd, a self-proclaimed "forever fan" of Franklin's who was one of the hundreds who lined up to pay their final respects, told the AP that she was struck by how beautiful the singer looked in repose. "I don't know about red yesterday," she said. "I didn't see it, but … she just looked gorgeous, peaceful."
For the Queen of Soul's third and final outfit change, she was put in a rose-gold gown by St. John's and gold Christian Louboutin heels, according to Entertainment Tonight. The third viewing, which was at New Bethel Baptist Church, was initially meant to be open to church members only, but the private event opened up due to public demand.
And today, the Greater Grace Temple in Detroit will host the funeral, where everyone from Stevie Wonder to Ariana Grande will perform, and multiple prominent figures — Reverend Jesse Jackson, Smokey Robinson, and Clive Davis, among others — will give speeches. Starting at 10 a.m. ET, the ceremony will be televised live.
This post has been updated.