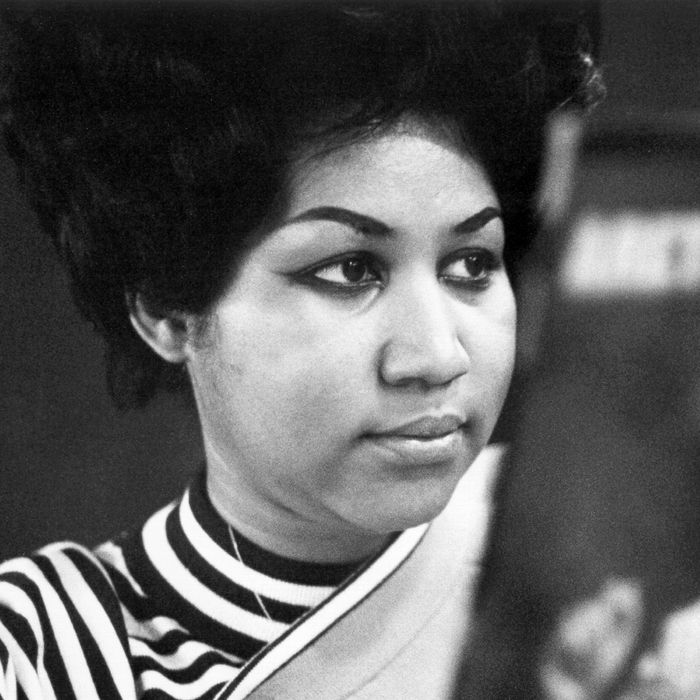 Aretha Franklin.
Photo: Michael Ochs Archives/Getty Images
Aretha Franklin was a woman of formidable grace — someone who knew her worth, and demanded respect. Even before she died on August 16 at the age of 76, there was an outpouring of love and tributes from people across the world, family and celebrities alike. And when she laid in repose at the Charles H. Wright Museum of African American History in Detroit at a three-day viewing earlier this week, devoted fans lined up to see Franklin, resting in a gold coffin that was fit for a queen.
Franklin's funeral at the Greater Grace Temple was a major event. Everyone from Ariana Grande to Stevie Wonder to Faith Hill to the Reverend Jesse Jackson arrived in the Queen's hometown of Detroit, where they paid their respects through song, prayer, and speech during a ceremony that went on hours past its expected end time — and, for good reason. Below are the most stunning moments from the day.
Hours before the ceremony began, hundreds lined up
The funeral, which was previously billed as a private event for close family and friends, opened up to 1,000 members of the public on Thursday.
Franklin's gold casket caught rays of sunlight as pallbearers carried it into the church
The solid bronze Promethian casket, which is plated in 24-karat gold, arrived at Greater Grace Temple in Detroit earlier this morning in a white 1940 LaSalle hearse — the same Cadillac that carried the bodies of Franklin's father, the Temptations baritone David Ruffin, and civil-rights icon Rosa Parks.
Politicians and celebrities mingled before taking their seats
Among the most unexpected group photos: Hillary and Bill Clinton, and Pete Davidson and Ariana Grande.
Faith Hill performed "What a Friend We Have in Jesus"
The country superstar, who frequently covered Franklin's songs at concerts, was the first of the celebrity performers to take the stage.
Detroit's mayor proposed renaming a park after Franklin
"On Tuesday, I will be sending city council a proposal to rename Chene Park," mayor Mike Duggan said. "Our beautiful waterfront jewel will be Aretha Franklin Park."
Brenda Jones, Detroit's city council president, also announced the council's intention to rename a portion of Madison Avenue to "Aretha Franklin Way."
Ariana Grande sang Franklin's "Natural Woman"
On the day of Franklin's death, Ariana Grande belted out "Natural Woman" on The Tonight Show with Jimmy — a performance that left the pop singer in tears. On Friday, she took to the stage once again — in a minidress that raised eyebrows — to sing the same song at Franklin's funeral.
The Reverend Al Sharpton honored his late friend
After misspelling Franklin's legendary song "Respect" on MSNBC, Sharpton redeemed himself during his tribute at the ceremony.
""She never shamed us. She never disgraced us. She never made us make excuses for her. She represented the best in our community, and fought for our community until the end."
Sharpton then read a letter from Barack Obama, who wrote that "Aretha Franklin rocked the world of anyone who had the pleasure of hearing her voice," and that "her work reflected the very best of the American story." The reverend was also the first to slip in a sharp jab at Trump, which was met with cheers and applause, as expected.
Smokey Robinson sang good-bye to his "longest friend"
Before launching into an a cappella version of his song "Really Gonna Miss You," the singer spoke directly to Franklin, telling her, "the world is celebrating you."
"And the world is mourning you and the world is going to miss you," he continued. "I will love you forever."
Franklin's granddaughter said it's "amazing" to know that her grandmother is "a part of who I am"
Victorie Franklin recalled her peers asking her what it was like to be Aretha Franklin's granddaughter when she was growing up. At the time, she would "shrug [her] shoulders" and say, "I don't know, it's just my grandma." But when she went go to Franklin's shows, Victorie said she always experienced "the best feeling in the world."
"It feels amazing to see a woman so fierce, so courageous, gifted, so respected and to be able to call that my grandmother, to know that I have that running through my blood and that she's a part of who I am," she said. "I'm so proud to have had someone like that in my life to pave the way for me."
Following Victorie's address, Franklin's son, Edward, performed an emotional cover of "Mercy Mercy Me."
George W. Bush wrote an open letter to her family
Barbara Sampson read the letter from the former president, who presented Franklin the Presidential Medal of Freedom in November 2005 for leaving a lasting mark on "our nation's artistic and cultural heritage."
"Aretha was a woman of achievement with a deep character and loving heart," he wrote. "She made important and lasting contributions to American music with her gospel-inspired style and distinctive voice … I am proud to have met Aretha and am grateful that her music will continue to bring joy to millions for generations to come."
Eric Holder referred to Franklin as the "rare queen who never lost the common touch"
In 2015, Franklin surprised the former U.S. attorney general at his farewell ceremony at the Department of Justice, where she sang "America the Beautiful." In his tribute to her, Holder called Franklin's voice more than "once in a lifetime" — it was "otherworldly."
"Her voice became universal for all people," Holder said. "She moved us in ways no artist has before or since."
Bill Clinton recalled being an "Aretha groupie"
The former U.S. president, who was billed as one of the event's most prominent speakers, claimed that as he and Hillary were getting out of college, they were major "Aretha groupies." Years later, Franklin would go on to perform at both Clinton's 1993 and 1997 inaugurations, and in 1999, he awarded her a National Medal of Arts and Humanities.
"This woman got us all in these seats here today not because she had this breathtaking talent, which she did … but because she lived with courage; not without fear, but overcoming her fears," Clinton said. "She lived with faith — not without failure, but overcoming her failures. She lived with power — not without weakness, but overcoming her weaknesses."
After speaking for seven minutes longer than his allotted five minutes, Clinton held his cell phone up to the microphone and played Franklin's song "Think."
Chaka Khan performed "I'm Going Up Yonder" with the aid of her fan
The ten-time Grammy Award-winning singer told TMZ days before Franklin's funeral that she was nervous about her performance. If she still had butterflies when she stepped on stage to sing Tramaine Hawkins's 1994 song, she did an impeccable job of hiding her nerves; perhaps having a fan on which she had clearly written the song's lyrics helped.
The Reverend Jesse Jackson urged people to vote
During his tribute to Franklin, the iconic civil-rights activist made a call for action to vote.
"There was long lines at the museum for Rosa Parks, long lines for Aretha, long lines today," he said. "We have long lines to celebrate death, and short lines for voting."
Fantasia took off her shoes before singing
In an interview with Billboard last week, the R&B singer said that her first cassette was Aretha Franklin.
Cicely Tyson stepped on stage wearing a hat worthy of a royal wedding
Absolutely the best hat of the day.
Jennifer Hudson sang "Amazing Grace"
The 36-year-old singer took to the stage in a black velvet ensemble and belted out a powerful cover of "Amazing Grace" that had audience members on their feet during the performance.
Following a cringy eulogy, Stevie Wonder encouraged the audience to "Make Love Great Again"
After playing "The Lord's Prayer" on harmonica, Stevie Wonder offered his twist on Donald Trump's infamous campaign slogan: "We need to make love great again."
He continued: "The reason we are here today is because of love, because of how much we loved this woman. Please remember the greatest gift that we've been given in life itself is love."
After delivering his message about the power love, Wonder launched into his "I'll Be Loving You Always," during which the church choir gathered around the legendary singer-songwriter.
This post will be updated throughout the ceremony.