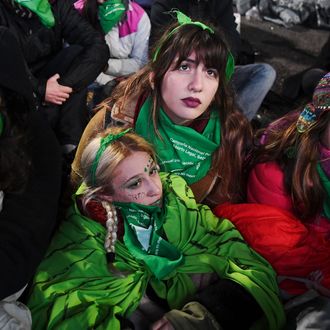 Argentina's Senate voted on an abortion bill on Wednesday.
Photo: EITAN ABRAMOVICH/AFP/Getty Images
On Thursday morning, Argentina's Senate voted to reject a proposed bill that would have legalized abortion in the country.
Abortion has long been illegal in Argentina: Currently, if a woman is found to have undergone the procedure (in instances other than rape or if the mother's life is in danger), she can be jailed for up to four years. The rejected bill would have legalized abortion in the first 14 weeks of pregnancy for all women.
The recent effort to change Argentina's abortion laws grew out of a new wave of feminist activism in the country, which started around 2015. That year, the brutal murder of 19-year-old Daiana García sparked uproar over the country's high rate of femicide — and prompted feminist marches and the creation of anti-femicide collectives in the country.
Soon after, anti-abortion president Mauricio Macri told lawmakers this year that they could reconsider the matter. Argentina's lower house — the Chamber of Deputies — approved the bill legalizing abortion in June, and on Wednesday, the country's Senate took up the issue. By Thursday morning, the Senate voted 38 to 31 against the bill.
The proposed bill was met with contentious debate in Argentina; although protests in support of its passage broke out worldwide on Wednesday night, anti-abortion activists also held a rally outside the country's Congress and the Catholic Church held a "Mass for Life" vigil in Buenos Aires. The bill's Thursday rejection, activists tell CNN, represents a "huge step backward" for the country.
However, activists also say that the fact that the bill was even debated in the first place was a "victory" of sorts. Despite the outcome of the Thursday vote — which came shortly after Ireland passed a major referendum legalizing abortion — activists told CNN that they will continue to push the legislation with the hopes that it will one day pass.