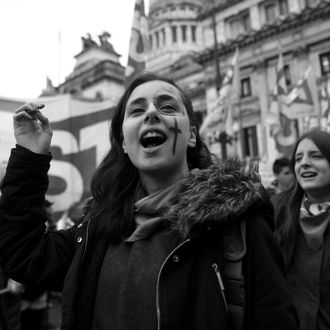 Hundreds of thousands of Argentinian people stand in the streets of the country's capital to await the results of the Senate vote to decide whether abortion will be decriminalized in the country.
Supporters of decriminalization wear green, and carry signs that read "Legal Abortion Now" and "Let It Be Law." The vote comes after years of protesting and pressure from feminist organizations, demanding free, legal, and safe abortions.
All around the world, people gathered in support of decriminalization. Crowds in Berlin, Rome, Dublin, Melbourne, Rio De Janeiro, and other cities also donned green in solidarity, calling on Argentine lawmakers to vote to create a law that will decriminalize abortion, and provide safe and legal access to anyone who decides to have one.