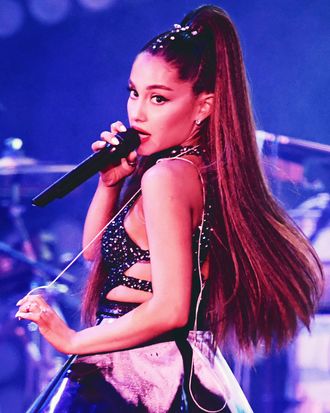 Ariana Grande.
Photo: Kevin Winter/Getty Images for iHeartMedia
On the tail end of a whirlwind summer that included a high-speed engagement and a much-acclaimed album release, Ariana Grande just got some new ink.
Though the singer has many small tattoos already, this is her biggest one yet. The design, which covers her entire forearm, depicts the main character of Hayao Miyazaki's 2002 film Spirited Away, an anime cult classic. In the film, Chihiro, a young girl, traverses a strange world of spirits in an attempt to reunite with her parents, who have been turned into pigs.
"Chihiro's growth into a capable individual is a core factor to the movement of Spirited Away's plot," reads a note Grande posted as a screenshot on her Instagram Stories. "During her adventure in the Spirit World, she matures from an easily-scared girl with a child-like personality to match her age to a hard-working, responsible and brave young girl who has learned to put her fears … Chihiro sheds her former personality and adapts to her environment to become a courageous, quick-witted and reliable girl."
Grande got the tattoo from Mira Mariah at Fleur Noire in Brooklyn, New York. She has publicly expressed her love for Spirited Away, joking in a tweet that "pete and i just ate like the parents from spirited away."
The couple has taken multiple trips to tattoo parlors, resulting in matching cloud tattoos on their middle fingers. Davidson also has several Ariana Grande–inspired tats, including a black bunny mask behind his ear (a reference to her Dangerous Woman album cover) and her initials on his thumb.
May this marriage last as long as the tattoos.