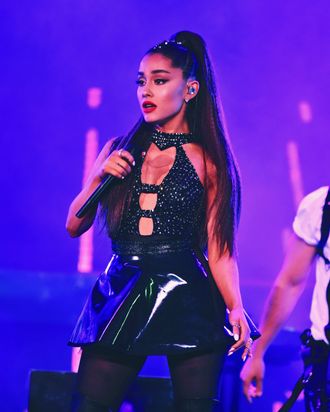 Ariana Grande.
Photo: Kevin Mazur/Getty Images for iHeartMedia
In response to an Instagram user who accused her of infidelity and then proclaimed they would not be listening to "Pete Davidson," an unreleased song from her upcoming album, Ariana Grande had two perfect responses: "ur boring" and also "boo fucking hoo Alexa play Pete Davidson."
In one comment, the user wrote, "Ari cheated on maccccccc," referencing a rumor that the 25-year-old pop star had cheated on her ex, Mac Miller, with her current fiancé, Pete Davidson, before they started dating and then proceeded to get engaged a few weeks later. The user also wrote, "Pete davidson will be the song i will skip all the time."
In response to the accusation, Ariana denied cheating ("but go off") then requested that the commenter "go stan someone else." In response to the second, she made the previously mentioned request that Amazon's Alexa play "Pete Davidson."
Remaining unimpressed in the face of annoying trolling: the ultimate power move.