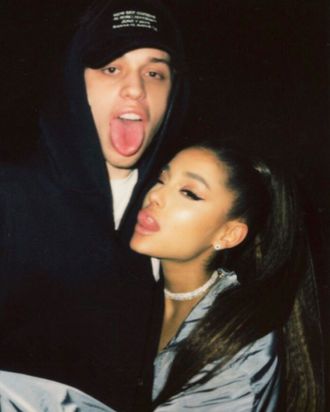 Pete Davidson and Ariana Grande.
Photo: arianagrande/Instagram
Ariana Grande's highly anticipated new album Sweetener was released on Friday. And of course, the album contains a one-minute-and-13-second ode to her Big Dick Energy–having fiancé, Pete Davidson.
We already knew Grande recorded a song about the Saturday Night Live star — she's been defending the song in her Instagram comments and Davidson himself even talked about it in one of her recent Instagram videos. But on Friday, we finally got to actually listen to the aptly named "Pete Davidson" — and got to hear Grande (once again) gush over her fiancé.
"I thought you into my life, woah," Grande sings of Davidson in the song. She continues, "No better place or a time, look how they align, universe must have my back, fell from the sky into my lap, and I know you know you're my soulmate and all that."
She goes on to sing that Davidson makes her go "like oh, oh," and that "my whole life got me ready for you."
On Thursday night — just before the album launched — Grande told Jimmy Fallon during a Tonight Show appearance that she developed a big crush on Davidson after first meeting him in 2016 while taping SNL. She also said that after leaving the SNL writers room that day, "I left and I jokingly said to my tour manager, I was like, I'm marrying him, 100 percent. I was like, I'm literally marrying him."
We guess she really did "think" him into her life like the song says.